The Dark Forest that had begun to grow so long ago, before the whispers of disappearing trees had been heard, had vanished. Ripped asunder by steel, torched by strong magic - the mighty Beol, the dark leader of the sentient trees had fallen along with their wooden brethren.
Mupa's plans had been foiled, and it was soon apparent that she was not pleased with this outcome. Echoing throughout Koguryo, they fought. Bitter words towards each other, student and teacher now enemies. Yieta believed that Mupa's teachings were old, outdated and weak. In her eyes, she had more potential and would do quite well without Mupa.
Atop the cave they argued, and parted ways until the following day, when Mupa caught Yieta south of the Kugnae Mage Guild. Yieta had been warned to be careful of her failures, and Mupa made sure that she would never forget this -- and transformed her into a giant tree creeping alongst the ledge of the hill.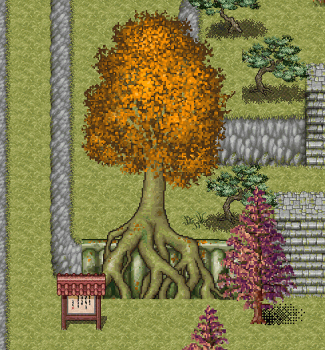 With the Dark Forest and the threats gone, HaggardWitch took the potions that the community members had created and used her magic to plant the Heart of Reflections. The Tree of Reflection came forth from the earth and began to grow once more!
Before departing, the HaggardWitch used her magic one last time to bring forth the missing trees around the Kingdoms. The Triiofa, thanking the community for all that they had done, returned home with their family. The Geomancers showed their adoration for these creatures, and for their work in the lands and graced them with a parting gift; Keeper of Balance. The story came to a close...but what of Mupa, and Yieta? Only time will tell, it seems.