Past News
Did you miss that important news story? Do you want to read what happened while you were on vacation. Here's where to get that info!
Our news software, Coranto, has a bug which makes it purge links to news articles more than two years old. What is left of programmers who volunteer their time to support this software do not know why this bug occurs. We manually index older news pages in our Archived News section.
| | |
| --- | --- |
| Saturday, January 29, 2011 | |
| | | |
| --- | --- | --- |
| | | Thank You for the Donations! |
The Nexus Atlas staff thanks you all for the generous donations you've given. We now have $335.18 in our account which is enough for the next 1.5 years! If you'd like to see more about our accounting information
click here
. We encourage more of you to donate so that we have the funds to ensure that Nexus Atlas is secure for a long time.
Thanks again from the staff.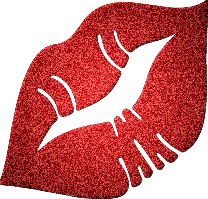 | | |
| --- | --- |
| Saturday, January 22, 2011 | |
Dark Vortex!

Posted by: Metro

--

7:11 PM EST
Earlier today, a Vortex boss was dragged outside of the cave and landed at West Vortex (Anchorite 3 boss). If that wasn't bad enough, the boss got mad and used the darkness spell (where he makes the room dark!) on the main Vortex map. The main Vortex map isn't set to return the room to light after a certain amount of time like the actual cave rooms are, so Vortex went pitch black! It's still dark in there, with no light whatsoever (lowest pitch of darkness). The Archons said it should be fixed soon, so this is definitely not permanent.
We got a screenshot of the actual boss at the gate, as well as a picture of the current dark state! Thank you couple Pummel and Kakio for sending this in to us.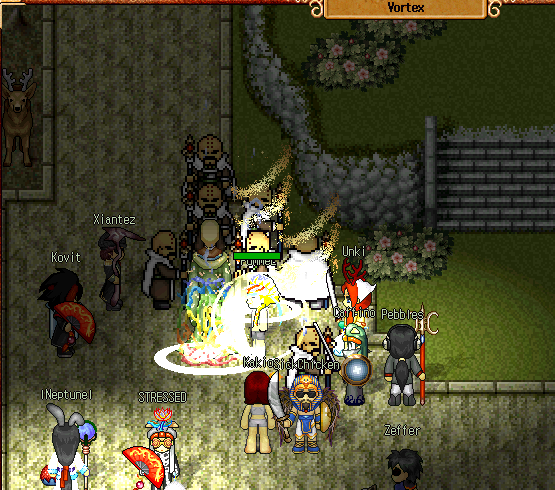 The boss in Vortex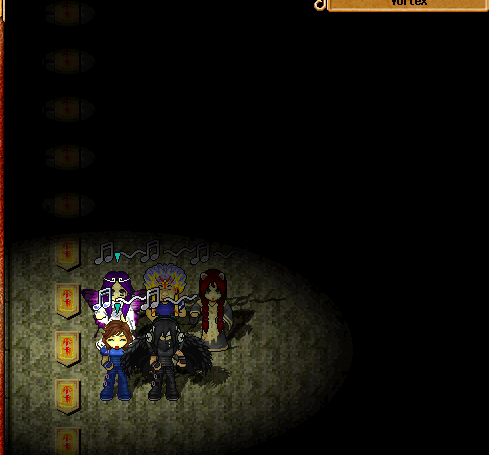 And the aftermath!
--Metro
| | | |
| --- | --- | --- |
| | | Heavens Clans |
After several months of confusion Heavens Clan has a new primogen, Sweetness. She's been in the kingdom for a long time and is known to almost everyone so when you see her give her your congratulations or condolences as you see fit!
AllyGator
Hyul 37, 6th Moon
| | |
| --- | --- |
| Thursday, January 20, 2011 | |
Minor Tweaks and Updates

Posted by: Caera

--

6:57 PM EST

* Gogoon scroll in the itemshop checks to make sure user is level 50
* Increased the number of attempts people get to do the poet whip quest
* The itemshop has been restocked with old items
* Auto-renew accounts have received their monthly 100 Kruna for January

Minor updates for:
* SanSin clan
* Pegasus clan
* Geomancer subpath
* Destiny clan
* Merchant subpath
* Silla clan
* Tiger clan
* Pegasus clan
More messages from Random Merchant

Posted by: Vini

--

3:08 PM EST
Two intriguing messages from the
random merchant
have been spread recently with supposedly important information. The first one was heard and confirmed by multiple people, such as
TheSavior
and
Rachel
who cared to submit evidence of it to Nexus Atlas (image below). The message given said that "
A man lost to the sea may be found
". Currently there's no lead to who this man might be, but asking the help of scholars and historians might be a good option to figure out who does he mean. The second message doesn't bring much news as what he said was something community had already guessed, but still is a good lead to understand that the random merchant is also working on the Diary pages quest. He said "
If you combine regular items and Woodland items together you get something new.
" This confirmation was obtained by
Janken
, but so far not much more is known involving the quest.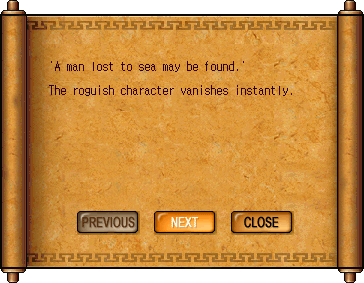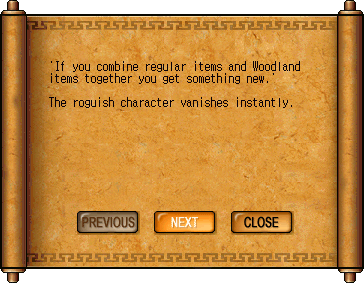 It is not known if these messages have begun being spread recently or not, but knowing when he began saying that is actually beside the point. What matters now is that citizens have been seeking the random merchant more often to seek his knowledge and he might have more things to say that citizens actually heard so far. Let's keep searching.
~Vini Normad'or~
~Hyul 37, Moon 5~
| | |
| --- | --- |
| Tuesday, January 11, 2011 | |
| | | |
| --- | --- | --- |
| | | Nexus Atlas Needs Funds |
Nexus Atlas needs money again! Our last donation run was in January 2006 and we've finally run out of money. I've added a donation button which goes to the NexusAtlas PayPal account. I promised way back then to keep an account of the money spent and I have done that...even if I didn't always keep it up-to-date. You can see how the money has been spent by clicking
here
. The Accounting information has always available under the Community tab.
Some of you may think we pay more for web hosting than is necessary but I'd like you to think back to the days when our site was often down; sometimes for a day or more. Our monthly costs have gone up because we were forced to go to a low-level business account due to bandwidth levels we occasionally reach. This level of service provides us with host backup service along with no down time which is a pleasant change from our previous providers. We've also got top notch tech service who have managed to handle every question we've thrown at them within minutes. Something no other host has done. In all, we are happy with them and hope you have been too.
So please, if you are able, donate so we can keep the site online. We are paid up to June 19, 2011.
More clues on Yun

Posted by: Vini

--

4:15 PM EST
KUGNAE -- Last thursday, while strolling near
Beard Smith shop
,
Ninked
was approached by the
random merchant
. Instead of ignoring him, he chose to follow the strange figure who offered him to reveal important information for 5,000 coins. Ninked chose to pay despite the common habit of the random merchant of repeating himself. Yet this time he has said something new: "
The lost princess isn't really lost.
"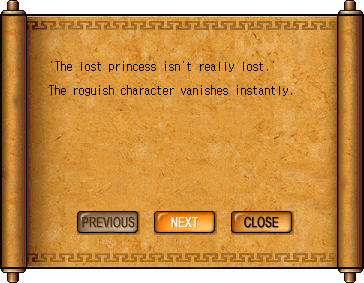 It is unsure if he only started saying this recently or if he had been saying this for years and no one really cared about. The fact is: this is another clue that adds up to the Baekho helm found days ago, with only few days of difference between one and the other. Stay on alert for more unusual aspects of the kingdom of winds as they might lead to other clues about what ever happened to Princess
Yun
.
~Vini Normad'or~
~Hyul 37, Moon 3~
| | |
| --- | --- |
| Thursday, January 6, 2011 | |
New Primogens for Tiger and LostKingdom

Posted by: Caera

--

7:20 PM EST
SlowSand
has retired as Tiger Primogen, leaving
Xzine
in his place at the head of the clan.
Corlenah
passed on the position of Lost Kingdom primogen to
Magura
. Magura states: "I am honored to have the position and can't wait to see what the future holds for us. Thanks everyone for your support."

Thank you, SlowSand and Corlenah, for your service, and best of luck to the new primogens. Thanks to Akikan for the news tip.
Server Reset - Tuesday, December 4th

Posted by: Metro

--

10:08 PM EST

There was a server reset today!

The details -

"* The wisdom star is around for 1 more day, but the vortex bosses decided to return a day early!
* The snow has melted around the kingdoms and the winter items are gone
* Subpath scrolls can now hold more posts and should not reset anymore

Minor changes for:
* Tiger clan
* Alizarin clan
* Viper clan
* Silla clan
* Bear clan
* Muse subpath" "

Wisdom Star will be over tomorrow, so get all your hunting done today!
The mystery of the Baekho helmet

Posted by: Vini

--

4:16 PM EST

As strange as it might be, some of the winter creatures have been dropping more than just snow balls and holiday items. Some people have claimed to have obtained totem rings dropped by the white versions, but the strangest item was obtained at Mythic Nexus by
Zylon
, who slayed a JoRangYa (white female) that dropped a
Baekho helmet
. It would have been just another ordinary helmet if not by a single the detail. It was bonded to a person unseen for a long time: "
Yun
".
According to Zylon, he didn't know what to do with such finding, but few minutes later he was approached by
Goeyu
who claimed to have dropped it by mistake and one of the winter creatures took it. Goeyu advised that Zylon should return the item to him as if vile people got ahold of it, it could bring trouble. Intrigued by the request of the Warlord, Zylon returned the item. Unfortunately he forgot to screenshot the item status, but quickly requested Nexus Atlas presence to register the last moments of their conversation.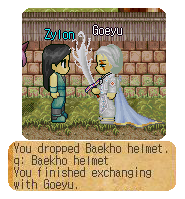 This raises some significant questions: Who exactly is Goeyu? Why does he carry the helmet of the long time missing Princess Yun?
Hopefully more will be revealed about this.
~Vini Normad'or~
~Hyul 37, Moon 1~
| | |
| --- | --- |
| Saturday, January 1, 2011 | |
Happy New Year!

Posted by: Vini

--

10:24 PM EST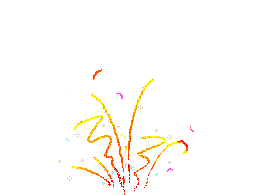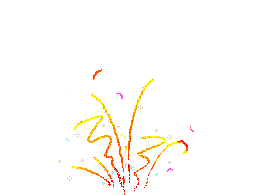 It is time to wave goodbye to the old and welcome in the new. 2010 was left behind with lots of memories, good ones and bad ones. Many things happened in the lands of Nexus (read retrospective 2010) this past year, but it is time for the community to embrace the future ahead of us and all it has to offer. What does 2011 has reserved for all of us? Time will tell and Nexus Atlas will report!
Happy new year from all of us at Nexus Atlas!
~Vini Normad'or~
~Hyul 37, Moon 1~