The twisted and turning of a terrible nightmare at any inn bed takes us to the Nightmareland we could barely have imagined!
With many new creatures around, one must be very careful as death in Nightmareland is very real and you will damage/break items as well as lose experience.
As you wake up in this new and terrifying land, you realize quite quickly that things are definitely not as safe as they are in Wonderland, so BEWARE as you fall asleep at an inn!!
So far people have received the following legend marks/rewards:
Walk-through: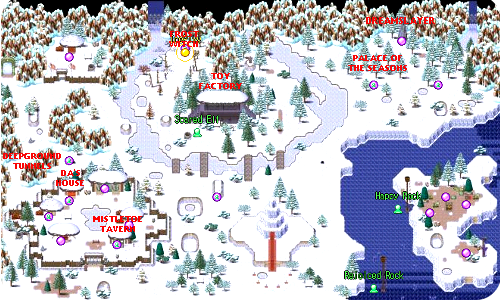 *** WARNING: BLASTS DO % VITA DAMAGE!***PART ONE: Restoring Spring
You enter Nightmareland and find yourself besieged by
Cold Twisters
,
Snow Furrys
and
Blasts
. You mix some of them together and watch the
Blasts
evaporate and receive a new

legend mark! ((To Evaporate Blasts: mix 2 Cold Twisters to create a Snow Furry, mix 2 Snow Furries to create a Blast, Mix 2 Blasts to evaporate them!))
PART TWO: Palace of the Seasons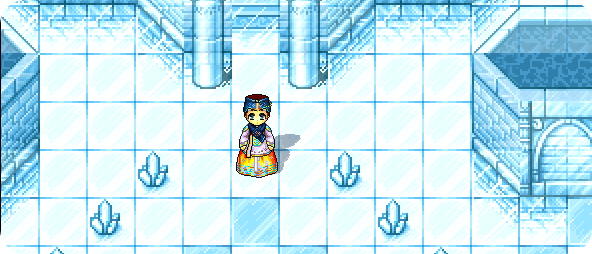 As you wind your way through these you happen upon a beautiful
Palace of the Seasons
(93,15). Inside you find
Lunghee

, she tells you that
Spring
has been frozen by the
Frost Witch
and that the lands are in peril, she asks for your aid in restoring
Spring
and of course you agree to help!
PART THREE: the Scared Elf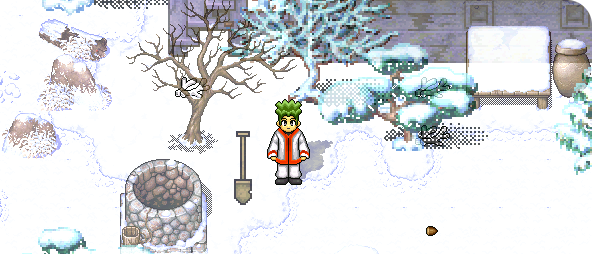 Leaving the
Palace of the Seasons
, you head west and run across
Scared Elf

outside of the
Toy Factory
(49,27). You ask him about the
Frost Witch
, He tells you that the elves are being over-worked by
Mr.FrostBite
and that they cannot stop making toys until
Spring
returns!
PART FOUR: The Rat King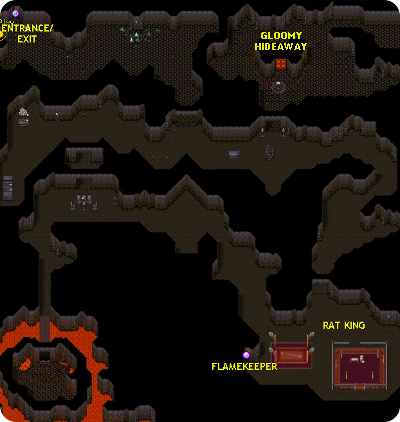 You continue to head west after speaking with the
Scared Elf
, and find yourself entering the
Deepground Tunnels
(3,38).
As you make your way through the
Deepground Tunnels
you happen across a beautifully decorated tree with a
Rat King

(70,62) enjoying the feast, as he attacks you, you slay him and are rewarded with a new

legend mark!
PART FIVE: Fires of Below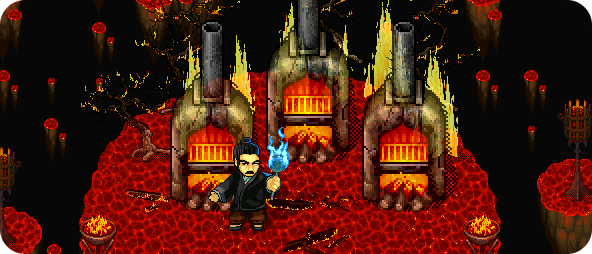 You continue to investigate the tunnels and find an entrance that leads to the
Fires of Below
(48,66) where the
FlameKeeper

awaits you.
Flamekeeper
asks for the following items to help in feeding the Eternal fire that has become dangerously weak:

- 20 Red Stardrops (found at Dragons in Wonderland; 114,60)
- 5 Coal (found in Wonderland Caverns; 20,43)

- 1 Pickled Lemonade (found in Toasty Eats in Wonderland; 53,49)
Once he receives these items you will receive a
Flicker of Flame

as well as a new
legend mark!
PART SIX: Friend or Foe?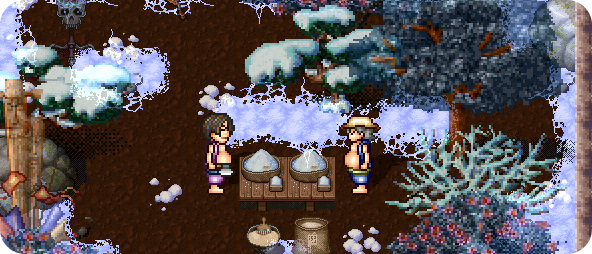 You wonder what to do with this new
Flicker of Flame
and head to the
Home of the Frost Witch
(46,5), there you find two trolls
Frostbelly and Frostbrow
they seem hungry:
Frostbelly would like
A large piece of pie

(found in Tasty Eats in Wonderland; 53,49)

Frostbrow would like a
Sprucecone Pie

(found in Tasty Eats in Wonderland; 53,49)
After they are happily full, they tell you that the
Frost Witch
has dipped spring in very cold Ice! Off you go to collect some
Snowangels

(found in Wonderland all over).
'U'sing the
Flicker of Flame

you begin to melt the
Snowangel's
one by one until you finally find
Sleepy Spring!PART SEVEN: Awakening Spring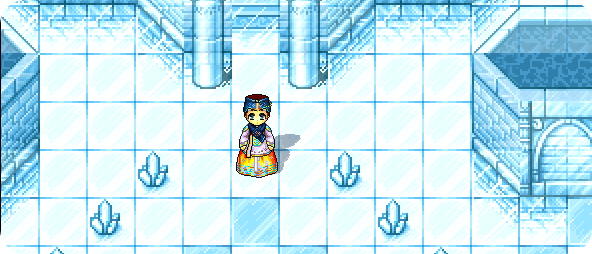 You quickly return to
Lunghee
in the Palace of the Seasons (93,15) and find out you need a flower to awaken her! A
Daffodil
works wonderfully and thaws
Spring

. As a reward you receive a
Spring Bouquet

((This is a weapon skin, equip to any weapon to continue walk-thru)).
PART EIGHT: Rescuing the Elves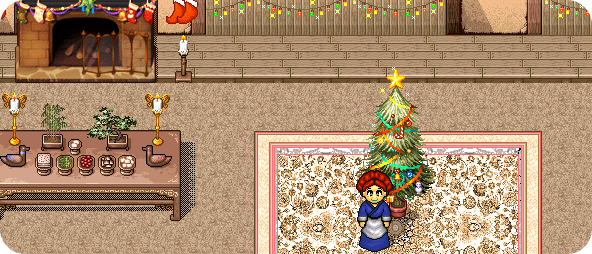 You are bound and determined to save the elves from their enslavement by
Mr.Frostbite

. You head to
Mistletoe's Tavern
(29,55) to see what you can find out there.
Mistletoe

tells you all about her poor husband, the Head Elf
Acto

and asks if you would bring him
Mistletoe's Note

. She asks you about
Signs of Spring
and also warns you that in order to speak with
Mr.Frostbite
you will have to distract him. Knowing that the evil
Mr.Frostbite
loves gift but hates rats, you hurry off to gather:

- 1 Green Wrapping Paper (any kingdom messenger)
Then you run back to
Deepground Tunnels
to wrap one of the
Fast mice
! (('u'se the Green Wrapping Paper when facing a Fast mouse to 'wrap it'.))
PART NINE: Frostbeard and his Vicious Pets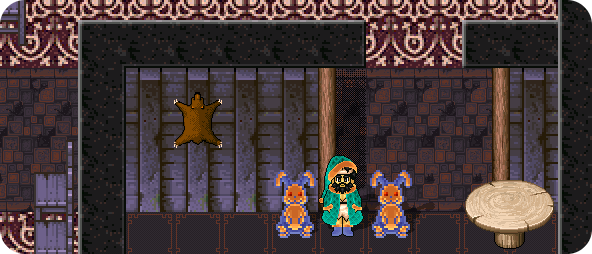 Having your distraction in hand, you make your way to the
Toy Factory
(46,23). However,you realize there is a guard with two Vicious Bunnies, but the bunnies look hungry and you seen some carrots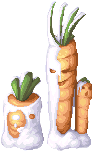 outside:

- 15 Snow Carrots (from Hippy, Bashful, Grumpy, Moody Carrots)
You head back in and feed the bunnies who proceed to ignore you and speak to
Mr.Frostbeard

, you tell him you have a present for
Mr.FrostBite
and he happily lets you by!
PART TEN: Final Acto?!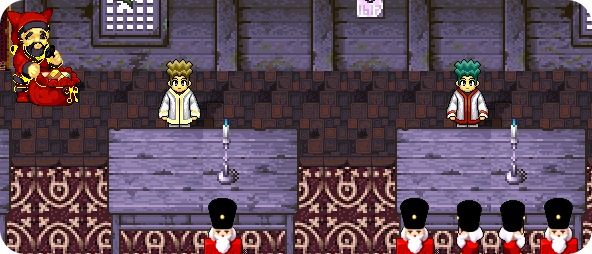 You see
Mr.Frostbite
greedily guarding his workers and gifts and quickly offer him the gift you had wrapped, once he faints from fear you speak to
Acto

((you MUST have
Spring Bouquet
equipped to prove
Spring
has returned! He thanks you and invites you back to
Mistletoe's Tavern
(29,55).
Once you have returned to
Mistletoe

she offer's you a reward for all your help:
Mistletoe's Gift

which turns out to be a lovely
Nightmare Shroud

and a bit of experiance!
SIDE QUEST: Da Needs Help Decorating!
: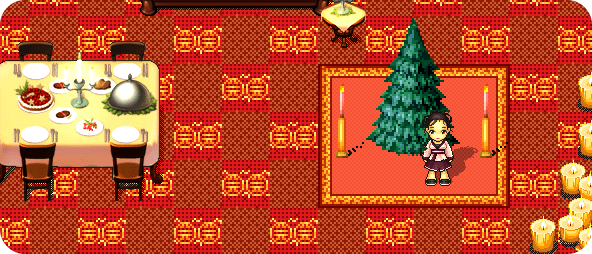 Now, you explore the village and find yourself in
Da's House
, it seems quiet but when you say
'Hello',Da

quickly responds with a plea for help in decorating her tree! She requires the following items to complete her decorations:

- 10 Red Stardrops (found at Dragons in Wonderland; 114,60)

- 10 Green Ambers (gathered from Snow Bunnies)
- 1 Candy Cane (gathered from Humanoids in Wonderland)
- 3 Holiday Stockings (gathered from Humanoids in Wonderland)

- 10 White Ambers (gathered in Wonderland Caverns; 20,43)
For helping her you will receive
Da's Gift

, which contains some karma and experience!
Enjoy the Nightmarish Adventure and all its fun!
***Thank you to all who contributed for walk-thrus/items/etc***
*;'IcePixy';*
Hyul 93, 6th Moon, 10th Sun