Past News
Did you miss that important news story? Do you want to read what happened while you were on vacation. Here's where to get that info!
Our news software, Coranto, has a bug which makes it purge links to news articles more than two years old. What is left of programmers who volunteer their time to support this software do not know why this bug occurs. We manually index older news pages in our Archived News section.
| | |
| --- | --- |
| Tuesday, February 28, 2017 | |
Morning Reset brings updates to unregistered characters

Posted by: Vini

--

1:20 PM EST
The storms of change hit the Kingdoms of of the Winds again this morning and brought updates that will have little effect on your life, but makes a lot of sense. Unregistered characters can now carry many more type of items than they could before. Remember that now characters can remain unregistered up to level 98.
Other noticed changes that are not included in the dream weaver's report were:
Flower 3 cave of Gogoon now has even numbers of mobs on all rooms. This makes 2nd, 4th and 6th rooms huntable and ends the fights for room of pre-Ee san hunters.

Voice commands for banking are no longer case sensitive on the item name. Example: "Give my all fine metal back" "I will deposit all ginko WOOD", now works. The rest of buy and sell voice commands do not seem to have changed.

Hand items and head items that are dropped by mythic bosses are now repairable (example: Ambrosia, Magic Dust, etc.).
Here's a copy of the post on Dream weavers board:



BOARD TITLE: Dream Weaver
FROM: NexusTK DATE: 2/28
SUBJECT: Quick Reset - Feb. 28th, 2017

- More items to be held by unregistered characters.

- Grin dye, Valentine dye working again.


Having unregistered characters being able to hold more item types than they could before makes much sense, after all, how could they be effective 98 heroes if they couldn't hold a 95 weapon? But watch out "smarty" ones, before you decide creating a bunch of "bank characters" remember two things:
a. Unregistered characters that aren't being played get purged after a few weeks.
b. All characters are owned by KRU, creating a bunch of mock unregistered characters to serve as bank chars may result in losing them if you abuse the system. Leveling characters to 98 to trade/give other players is violation of License agreement and can even result in suspension of your main account.

~Vini Normad'or~
~Hyul 86, Moon 4~
| | |
| --- | --- |
| Wednesday, February 22, 2017 | |
| | | |
| --- | --- | --- |
| | | Mythic got a new Look, No oh san in sight. |
As of this morning Nexus servers were reset to introduce a client patch to version 7.48, which brought several changes, some fixes and took a huge step on free to play: which is now up to level 98. The patch has also finally fixed the size of default profile pictures, which now fit on the specific space assigned for it. Facemaker software doesn't seem to have had an update along with that.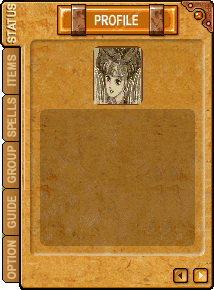 Here's your Patch notes:
BOARD TITLE: Dream Weaver
FROM: NexusTK DATE: 2/22
SUBJECT: Server & Client Patch - Feb. 22th, 2017

- Valentine's Day event ends.

- Free play extended to lev. 98. Some issues may arise. Will keep adjusting accordingly.

- Group exp. distribution being gradually adjusted.

- Minimum level to sell exp. changed to lev. 99..
The new update today has also revealed a new look for mythic shown below: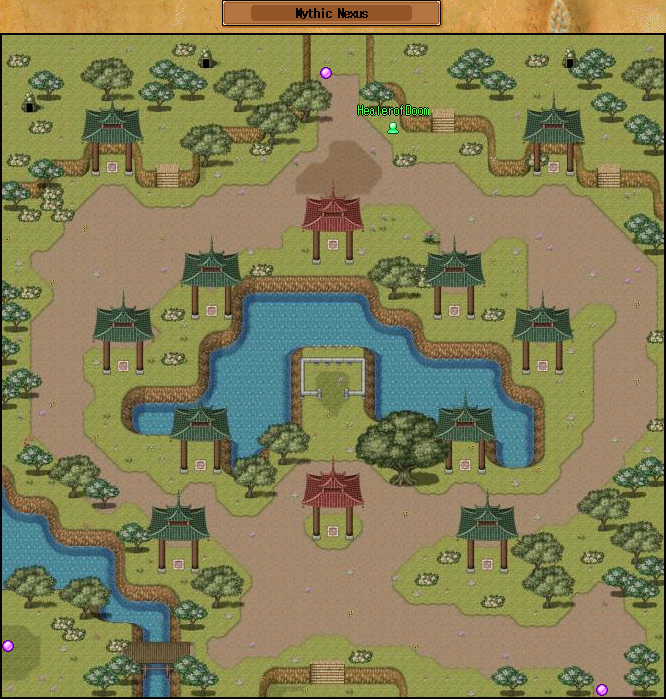 There has been a lack of news on the Oh-san release.
| | |
| --- | --- |
| Sunday, February 19, 2017 | |
| | | |
| --- | --- | --- |
| | | Nexus Group Photo!! |
FrenchFry managed to snag a slew of folks for an amazing Group Photo of people from multiple nations, clans and subpaths rejoicing together at monk's arena and gathered up for a novel experience.
*Scroll over photo to view names*
---
| | | |
| --- | --- | --- |
| | | Geomancer Eldership Change - End of an era |
After 5 years leading the Geomancers, Elder Runai has decided to step down from his position. This change represents the end of an era in the path, as Runai was the longest running elder in whole history of Geomancers, even compared to elders with multiple eldership terms. Runai was also known for being the longest-term guide, 9 years.
Runai's eldership was marked by many improvements. Under his term the path was able to expand further their teachings of elemental arts, introduced coats of the earth mage and elementalist recognitions. He was also a prominent figure in forging and signing the new wilderness pact, which served the reunite the 4 subpaths of wilderness after a period of turbulence between barbarians and rangers. Under his eldership, Geomancers also became closer with the Do.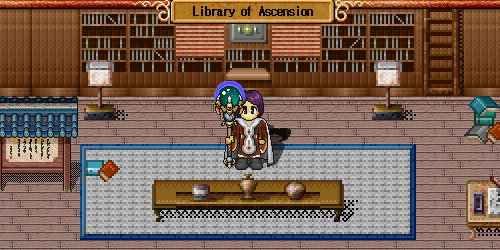 Mostly, Runai was known for being a very calm elder, not quick to rush into decisions, thinking everything carefully and very straightforward, more concerned with the facts and less about public opinion. "
I'd like to thank the Geomancer path for letting me be their Elder for the past years. It's been a pleasure to serve the path, both in good times and in bad. I hope that the contributions made to the path during my time as Elder, both by myself and every Walker and Guide in the path, will stand the test of time and be part of the continuing legacy of the path. And I am confident that the fantastic people who make up the Geomancer path will continue to develop upon that legacy in years to come
", said Runai. His legacy will be of peace and harmony and the friendly environment he maintained for his circle.
As his successor, Runai chose Maevalia to become the new Elder of the path. Maevalia makes history with this ascension as she became the first person in Nexus to ever become elder of two subpaths ((on same life)). The history of Maevalia with Geomancers is quite strong as she was also a guide of the path for long time before she had joined shamans for her second passage there. She now ascends as the 18th elder of Geomancers in their 21st eldership shift.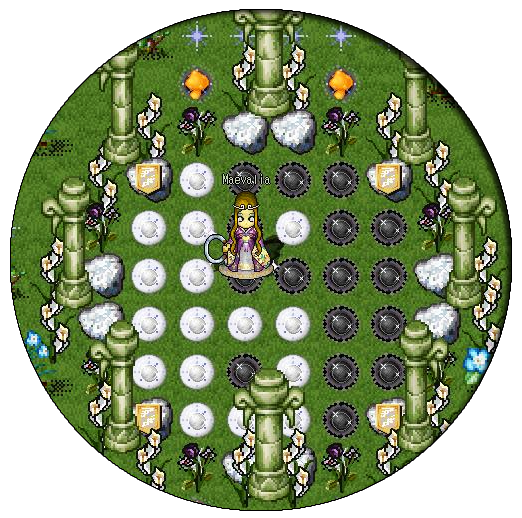 Maevalia honored us with the following words about her new role. "
Elder is not an achievement, but a necessity. As Geomancers, we believe that no man or woman is better than another. Runai was one of the most reliable and trustworthy people I have met and I can only hope that I find success in filling his shoes
", said the new Geomancer leader.
Nexus Atlas thanks Runai for his services to the Geomancer and the community and wishes Maevalia and the path the best as they embark on another branch of their journey!
Edited by Vini
| | |
| --- | --- |
| Friday, February 17, 2017 | |
| | | |
| --- | --- | --- |
| | | New Temporary Orb Released! |
Though we aren't sure when it was introduced exactly, we now know that there is a new "Fragile Orb of World Shout" which is temporarily available at any local Inn.
Simply, click your local InnKeeper and Receive your Free Hourly World Shout - Keep in mind it only lasts for 24 Hours and is a TEMPORARY feature!
Enjoy your New World Shout Orb~
| | |
| --- | --- |
| Friday, February 10, 2017 | |
| | | |
| --- | --- | --- |
| | | MQ Run Mystery Solved!!! |

Multiple sources have now confirmed that as of the most recent Server Reset dated 2-8-17, the MQ limit was dropped to 50 Minor Quest's every 12 hours, per character!

We can assume that the minor quests previous to this date WERE unlimited, which explains the variety of caps many have seen.

Though many grumble about not being able to complete all 400 Minor Quests as needed for Sa san trials, this may be to ensure that the People of the lands have time to truly enjoy this holiday of love and giving!

Enjoy this time, make some Valentines, share some love and laughter and don't worry ~ We're fairly certain that there will be more MQ runs in the future!
| | |
| --- | --- |
| Thursday, February 9, 2017 | |
| | | |
| --- | --- | --- |
| | | 2017 Valentine Collection Released! |
They're here, They're here! *jumps up and down with excitement*
A few days ago, CoverGirl released her 2017 Valentine Collection for viewing on the Models Runway!
BOARD TITLE: Item Shop Announcements
FROM: CoverGirl DATE: 2/6
SUBJECT: Models Runway updated

2017

*** New Valentine Collection ***

Courtship Gown
Courtship Garb

Ardor locks
Ardor hair


All ready! Coming soon~


I'm here to report that they've been released and are ready for purchase!
Make sure not to miss out on this Year's fabulous outfit, a must-have for every fashionista!
Head Items
: (pass the cursor over the image to see Item Details)
Coat Items
(pass the cursor over the image to see Item Details)
---
| | | |
| --- | --- | --- |
| | | Valentines Quest Walk-thru: Timeless True Love! |
This year's Valentines Day Quest has been released and introduces a
new mantle
and a
new legend mark
as rewards.
The quest involves Subing & Bingsu's fabulous love, which has withstood the test of time, and they're now looking to Tie the Knot!
BOARD TITLE: Whispering Winds
FROM: NexusTK DATE: 2/7
SUBJECT: Timeless true love
Dear Community,

Thank you for reuniting me with my love SuBing, without your help we would have never found each other again.

We've been apart for many, many years, but the love in our hearts is as youthful as the first day of Spring, so we decided to get married! Now, we need your help with finalizing a couple of very important details for our wedding!

Find us at the Lover's lake if you wish to help.

Warm Regards,
BingSu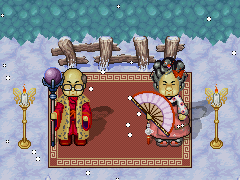 BingSu and SuBing in Lovers Lake - Arctic Land
---
In order to start the quest, head over to Lovers Lake in Arctic Land (003,048) and speak to Bingsu (the husband), he'll ask you for multiple things: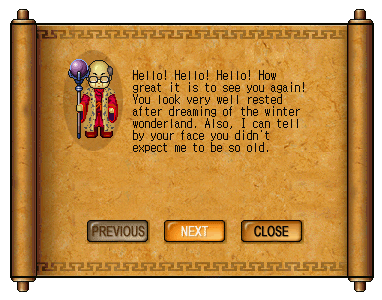 a) Some chocolates for Subing (specifically Chocolate cakes and Chocolate hearts)
In order to attain the chocolates, you must run around the kingdom and say "I love you red/white/pink butterfly" (depending on the color of the butterfly, of course). The butterfly will tell you they love you as well, perish and in its place will be a goody!
Collect 5 Chocolate Cakes & 5 Chocolate Hearts.
b) He also asks you for a fancy box to put them in!
This is where you run to Buya to speak with Blossom the seamstress (019,119). You can purchase the Fancy box by purchasing it from her under "Other Items" for 5000 gold coins.
Bring these back to Bingsu to receive a mantle of your color choosing: Magenta, Sky, Twilight, Emerald, Scarlet, Night, Pink, Royal, Golden, Aqua.
---
Next, Subing's turn! Subing is just so excited by the prospect of marrying her true love, that she wants the entire affair to be just right!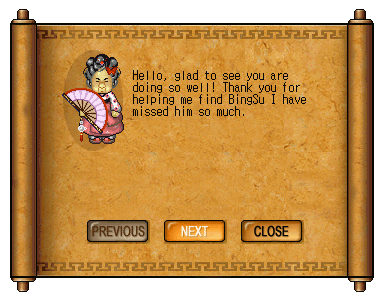 She asks you for the following:
a) Callalily Bouquet
This is made by bringing : 5 regular cloth, 2 fine cloth, a ribbon and 5 callalilies to the decorating table found at the Crystalline Chapel in Arctic Land. (069,053)
Note: Callalilies are found at the Great Tree in Wilderness (104,006).
b)
She also asks you to book the Master Entertainer for her wedding!
Note: Bring a moon wine with you for this part, obtained from Baegil Shop in Kugnae (196,200) for 100 gold coins.
Visit the Kamchatka Ballroom in Arctic Land (036,027) and save the Master Entertainers Sheet Music from the "Love Doves".
Collect 3 of the sheet music and turn both those and the moon wine into the Master Entertainer to receive an Entertainer Token.
Once you've collected both items, bring them to Subing and receive a mark, "
Helped star-crossed lovers tie the knot
".

---
All items needed for quest:
5 Chocolate Cakes

5 Chocolate Hearts

1 Fancy Box

5 Callalilies

5 Cloth

2 Fine Cloth

1 Ribbon

1 Moon wine

3 Sheet Music

Interesting Fact: Love Doves also drop Valentine Dye!


---

Don't forget you can also send the folks nearest and dearest to your heart a Valentine! Here's how:
Visit the Old man/Shaman in Buya (014,133) and receive a "Valentine Ribbon".
Take this "Valentine Ribbon" to Dashae in Kinungs (082,072) and she will turn it into a Pink Valentine.

Note: If you wish to have any color besides Pink, you may skip the above steps and simply purchase a song or poem from the Baek shop in Koguryo (017,012) and bring it to the Muse in Buya Islets (051,005) and she'll simply trade your song/poem for a Valentine of your choice.

c) Take your beautiful "Valentine" to the messenger in Buya, Paryu (096,130) and use the option "Valentine Delivery", it costs 5,000 gold coins to send.

Note: If you send using regular delivery, the Valentine will NOT show whom it was from!

Valentine Color Chart (credit goes to Namie~)

Crimson : Red
Blackest : Black
Snow : Pale (seems like lighter version of Royal)
Forest : Emerald-ish (looks a bit similar to Sky)
Royal : Lilac purple
Golden : Gold, yellow-ish
Sky : Sky blue
Sun : Orange-ish gold (looks a bit similar to Golden)
Moon : Navy blue
Pink(Default in Kinung) : pink

Don't forget about the yummy goodies from butterfly drops!

Here's what each does:



Valentines Flower - For holding



Chocolate heart - Share a kiss with your partner!



Red Candy Box - Dance with your partner!



Chocolate Cake - Gives you 100% vita fill



Valentine Chocolate - Gives you 100% mana fill
| | |
| --- | --- |
| Wednesday, February 8, 2017 | |
Another Client Patch

Posted by: Vini

--

6:00 PM EST
KRU introduced this morning a client patch to Nexus version 7.47, which mainly introduced few changes to group vita/mana options tab and also the new Valentine's day event.
Here's a copy of the Dream Weavers' post:
BOARD TITLE: Dream Weaver
FROM: NexusTK DATE: 2/1
SUBJECT: Server & Client Patch - Feb. 8th, 2017

- Valentine's Day event

- MQ Run

- Group tab reverted back (for now) with an option of displaying group H/M bars.
~Vini Normad'or~
~Hyul 85, Moon 11~
Client Patch New Features and New Items

Posted by: Vini

--

6:50 PM EST
A server reset this morning introduced client patch to Nexus version 7.46 and brought some long waited options for players such as ability to automatically save a copy of nmails sent and also now people can view the vita and mana above the group members head, no longer in group tab. As seen on picture below: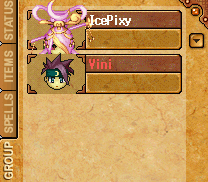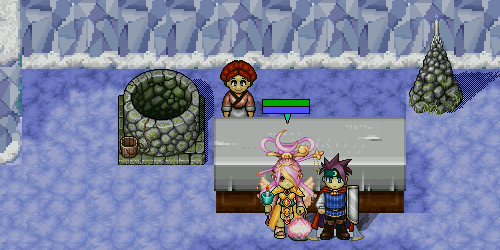 Also with the reset they introduced the option to purchase blue, yellow, red, green and purple stardrops per 2 coins each from Cithra at Arctic Tavern (also on picture above), but
beware: this temporary option was introduced to allow those who had collected these during winter wonderland event and lost them when event was removed. Do not purchase these if you didn't have the items before or above what you had before
.
Here's a copy of the Dream Weavers' post:
BOARD TITLE: Item Shop Announcements
FROM: CoverGirl DATE: 2/1
SUBJECT: Update

- Group member HP/Mana status bars are now above each group member, not in the Group tab.

- You have an option to keep a copy of your outgoing mail.

- One of the NPCs sells colored stardrops at a very low cost. Please do not buy more than you previously owned. This sale is temporary.

- System bug fixes after server merge.
The way the sent nmail copy works doesn't add a new "sent mailbox", it simply creates a copy sent from you to you with a disclaimer on subject and on top of the nmail. It's quite helpful.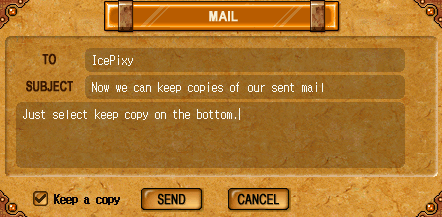 Also today CoverGirl showed up at Buya's Imperial Runway and allowed people to some new options of Kruna coats and hairstyles that are going to be introduced at the Itemshop later this week.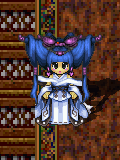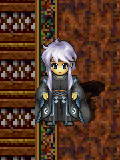 As informed on Item Shop Announcements board they are called
Courtship Gown
,
Courtship Garb
,
Ardor locks
and
Ardor hair
.
It's quite possible that the colors being worn by the models are not the only ones that are being released as CoverGirl herself was wearing other colors too.

Make sure to check them out in the kruna Itemshop later this week when they introduce the new Valentine's Collection.
~Vini Normad'or~
~Hyul 85, Moon 11~
---
The Cheater Wild Hunt III

Posted by: Vini

--

10:20 AM EST
So if you were wondering what Wony was talking about when he mentioned people interacting and assisting cheaters and botters will be punished along them, he posted again on community board with a more clear explanation of situations he knows that players have been communicating to minimize the punishment and item loss over recent banning.
Here's a copy of his most recent post:
BOARD TITLE: Community
FROM: GM Wony DATE: 2/6
SUBJECT: Cheaters, again, hopefully the last one for a while
Several characters picked up the items that the cheaters dropped right before the recent ban happened. These characters:

- picked up the items almost at the exact same time when the items were dropped, on several instances,

- were at the exact location where the items were dropped, on several instances,

- and did not show any intention of reporting the items. (Some of these items were quite valuable and rare)

All the items and gold have been removed from these characters and their alts. (Not just the items they picked up)

In the future, this post will be made on Scum, their identities will be revealed, and the characters will bear permanent legend marks, or will very possibly be banned.

And for those who hunted heavily with the cheaters last few weeks, you know who you are, next time my investigation and punishment will start with the hunting activities. Hunting with cheaters with the knowledge that they are cheating, will be considered cheating and assisting the cheater. This works for me, because it will consume very little time of mine, which should be spent on improving Nexus, not this.

For the rest of the citizens of Nexus, you need not worry as long as you have no intention of helping or interacting with the cheaters, and uphold the laws of Nexus, and the common sense.

Wony, the wielder of a peasant sword

So, as you read the last paragraph you understand that the warnings and punishments Wony is giving are very directed at people who he knows are guilty or guilty by association. People who try to fool or abuse the system
will get caught
, while people who get involved with any of those people just in a regular basis, shouldn't worry about it. Of course, if someone gives/lends you a seven-leaf sword or diadem out of nowhere and vanishes unregistered few days after you can obviously suspect something wrong happened. As usual, if something similar to that happens to you, but you have no intention of being involved in illegal activities you can always send a ticket and ask for help of KRU to double check the origins of such "gift". KRU is on your side.
~Vini Normad'or~
~Hyul 85, Moon 11~
| | | |
| --- | --- | --- |
| | | Valentines Day Kruna Update! |
While we haven't heard from CoverGirl for a while, it does appear that she has
been furiously scouring her sumptuous wardrobes for the Perfect V-Day outfits!
Vivacious Pink Hair-dos, Velvety Gowns and Packages galore!
See below for her post~
BOARD TITLE: Item Shop Announcements
FROM: CoverGirl DATE: 2/1
SUBJECT: Update
Hello Kingdoms!

Long time no post :)

I updated the Item Shop with PINK! but not only for the girls. Guys, you should check the House robes and some cool hair styles. I love the Parted Hair.

We have new weapon skins, Heart Sceptre in 17 colors. You should be able to find your favorite color.

And also don't forget to check the Specialty sets. You can find very nice deals with all the sets.

Enjoy!

**CoverGirl


Here's how they look like:
Make sure to check them out in the kruna Itemshop!
| | |
| --- | --- |
| Thursday, February 2, 2017 | |
| | | |
| --- | --- | --- |
| | | Wony drinks sewer water? more explained. |
Wony has posted today in Rambling thoughts letting the community
know how much he hates looking for cheaters instead of using his time to flourish the game.
BOARD TITLE: Rambling Thoughts
FROM: GM Wony DATE: 2/2
SUBJECT: My time
is so much better spent on something other than tracing and banniing the cheaters. I hate it. It feels like drinking sewer water while preparing a beautiful feast. But I can't let them prosper and gain control over others, especially for a tight and friendly community such as our Nexus. Everybody loses when the cheaters roam and bark freely.

Many are raising concerns about the possibility of the innocent being banned in the process. But that does not happen. Think about it. Why on earth would I want to ban innocent players? I am not crazy.

Don't embrace the cheaters. Don't nurture them. Don't welcome them. I will do my part, but the ultimate defense is when the cheaters get no support from the community.

Many of us have been with Nexus well over a decade. Don't you feel that we deserve a place where the cheaters don't get to win, and that place should be Nexus?

Yours truly,

Wony

| | |
| --- | --- |
| Wednesday, February 1, 2017 | |
More banned players announced

Posted by: Vini

--

10:17 PM EST
Following the warning of not associating with cheaters and botters, today Head GM Wony announced the ban of multiple characters, including of players who were assisting people who they knew were cheaters. Here is a copy of his post on Scum board:
BOARD TITLE: Scum
FROM: GM Wony DATE: 2/1
SUBJECT: Obez & others, permanently banned

Obez, TheLush, Thirteen, Cody, Shortcake, Honour (ugh) and all their alts permanently banned, for cheating and sharing/trading characters/accounts.

Catalyst, xintelx, xbersekerx permanently banned, for KNOWINGLY and WILLINGLY assisting the cheaters.

Investigation continues, further actions may follow.
Investigating random cheaters requires surveillance and demands much of GMs time, so if you know someone who cheats the game by sharing or trading characters/accounts, or who auto-hunts/auto-crafts or who does illegal assets trades, don't keep this information to yourself. Report it to
Nexus Support
and help them by providing screenshots, evidences and information that can help them find proof that someone is indeed abusing the system.
~Vini Normad'or~
~Hyul 85, Moon 10~