Past News
Did you miss that important news story? Do you want to read what happened while you were on vacation. Here's where to get that info!
Our news software, Coranto, has a bug which makes it purge links to news articles more than two years old. What is left of programmers who volunteer their time to support this software do not know why this bug occurs. We manually index older news pages in our Archived News section.
Friday's Reset changes

Posted by: Vini

--

1:01 PM EST

The storms of last friday brought quite few changes to the lands of Nexus. Here's a list of the new features as posted by Dreamweaver Stein:


Lucky has left for the year

The Koguryo Ministry has a new tea event for the community

A bonded item return box is available in the itemshop which will return your bonded staff of the elements, wind armor, sun armor, moon armor, or star armor if you have lost it. (It will not allow you to replace an item you currently have in your possession)

Nagnang army members should be able to be marked to receive their army uniforms

Minor updates for:

Diviner subpath

Geomancer subpath

Barbarian subpath

Merchant subpath

Shaman subpath

Ranger subpath

Spy subpath

Chongun subpath

Muse subpath

~Vini Normad'or~
~Hyul 38, Moon 11~
Lucky's Pot of Gold Walkthrough

Posted by: Vini

--

1:48 AM EST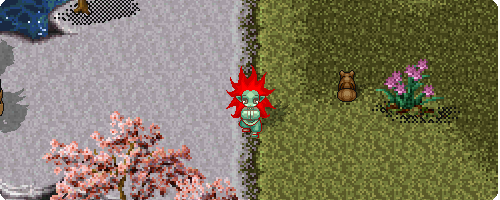 This a walkthrough for the St. Patrick's day event in Nexus:
Making the Lucky net
You'll need only 1 Lucky net as the same one can be shared by multiple characters. So you can either create your own or borrow from a friend. The items needed to create a Lucky net are:
Noodles (1)

Wheat (1)

Wolf pelt (1)
Wooden saber (1)



Then go to Gruff Smith at Sanhae Village and say "Lucky" twice to him. He'll take the items above and give you a Lucky net.




Getting the Pot of gold

1. Equip the Lucky net and it is time to find Lucky around the kingdoms. The best place to hunt for him is at Mythic Nexus since the place is small and you can easily find when he respawns and there's a Lucky there every time of the day.


To capture Lucky simply swing at him or zap until it gives a popup. Then after reading the popup, choose the last option "Tell me about your Kettle of Gold" option and then "Are you kidding? Give me the location now!".



2. After that, head to Artic land via main map and walk south of the Haeng Tavern towards the wilderness mining Area. Go to Thane's cave, purchase a Lucky pick for 2,000 coins, equip it and walk around the mining field until you get the pot of gold. The Lucky pick might break a few times during this process, but after done you can let a friend borrow it.



3. Once you find the Pot of gold click to open it and receive one of the five possible gifts:

Golden Baloom

Lucky Baloom

Golden Lantern

Luck Lantern

Golden fan

You'll also get a new legend mark:




~Vini Normad'or~
~Hyul 38, Moon 11~
Nexus Client 6.89

Posted by: Vini

--

7:37 PM EST

Last thrusday Nexus had a patch that updated the servers to version 6.89. With the patch and reset these were the changes reported by GM Stein:


Lucky is back in the kingdoms - talk to Gruff smith to find out more!

New outfits for St. Patrick's day will be in the item shop

Stat balancers for Yusa arena will now be given if your character is over the hp/mp cutoff in either stat instead of both.

Witches hats previously allowed hair to be shown when using the hat; this has been fixed.

Minor updates:

Fixed a portal for Oceana clan

~Vini Normad'or~
~Hyul 38, Moon 10~
A New Era for Silla

Posted by: Metro

--

5:23 PM EST
As of Friday night, there has been a new Primogen of the Silla Clan. Akiudo passed the torch down to Primarch Klatu, after he felt he had done his job as Primogen. Akiudo was Primogen for around 6 months, leading his clan to 150+ registered members. Klatu, the man who was chosen for the job, was Primarch for around 3 months. Before becoming Primarch, Klatu served as a council member.
Klatu is the 9th Primogen of Silla. He is very excited to be the leader of Silla, and already has some great new ideas. We thank Akiudo for his great service, and wish Klatu the best of luck on his new position.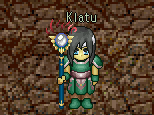 Klatu posing for the NexusAtlas cameras!
KSG's dye

Posted by: Vini

--

11:57 AM EST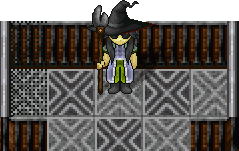 Since last reset some members of the KSG have been wearing a unique grey dye. It is not known yet how one can obtain it, but so far only few people have such colored clothes.
~Vini Normad'or~
~Hyul 38, Moon 8~
Army uniforms and other reset changes

Posted by: Vini

--

10:55 PM EST
As of last Thursday, the soldiers of
Koguryo Royal Army
,
Buya Imperial Army
and
Nagnang Ascendant Regiment
were graced with brand new army uniforms as coats. This has been a long time dream of all armies and was finally brought to their barracks. Currently, there's no Nagnang soldier who has it, so below you can only see how KRA and BIA uniforms look like.
Koguryo army uniforms look like Mesh substratum/Gossamer substratum, but with Koguryo color (Female uniform currently has a wrong version of blue dye):



Buya army uniforms look like warrior wind platemail/plate dress, except that it is a non-dyeable coat, with Buya color:



To obtain such uniforms, the soldiers must receive a brand of loyalty to the army acknowledging the person as a soldier of the kingdom. Once the person receives one of the marks below they're allowed to purchase their own bonded uniform. They're all repairable, come with 400000/400000 durability, are non-bankable and it is not known yet if they break on death.


General Snirkot of Nagnang Regiment confirmed that Nagnang uniform will be a purple Mesh substratum/Gossamer substratum, so it will be similar to Koguryo version.
Besides that, the last reset also changed the following things, according to the post by GM Stein:
People who are above 6mil/3mil stats will now receive balancers when entering Yusa arena

Return to natural balance script has been moved from Mountain to Pyung (rez NPC in the room at the bottom right corner of Mountain Arena)

Added notice to abandon house script that notes you may have to wait several minutes before being able to rent a new house

Fixed a few Gogoon bugs

Minor updates for:

Spy subpath

Ranger subpath

Oceana clan

~Vini Normad'or~
~Hyul 38, Moon 8~

P.S. Special thanks to Killeh for sending me the picture of her soldiers wearing the uniform and special thanks to KRA soldiers and King Mhul who received me in their barracks for a picture.
New Head Host of Carnages

Posted by: Vini

--

9:44 PM EST
A few moments ago it was announced that
Valkie
is now the new head host of Carnages department. Valkie has been a carnage host for about a year and served for the past months as division head of Riches.
The previous Head Host,
Cerixis
, decided to step down, after 18 months leading the hosts, as he felt it was time to hand the torch over to a person with a fresh mind for ideas. Nexus Atlas would like to thank Cerixis for his devotion to Nexus's Carnage and wishes Head Host Valkie good luck on his new duties.
Besides that, other three important changes of leadership happened in the carnage department this week:
Division head of Bloodlust shifted from xThunderx to Yank;

Division head of Riches shifted from Valkie to Ayahuasus;

Division head of Tournament shifted from Brant to Zylon.

~Vini Normad'or~
~Hyul 38, Moon 7~
New Mayor of Kinung

Posted by: Vini

--

11:15 PM EST
Last night, Skum and the other members of Kinung Council announced that with the early resignation of Spades from the Mayor position, they've voted a representative of the council to take over and assume the open spot.
Teikari
was announced as the new Mayor of Kinung and congratulated by many around the kingdoms, including King
M'hul
of Koguryo who acknowledge him over sage for such feat.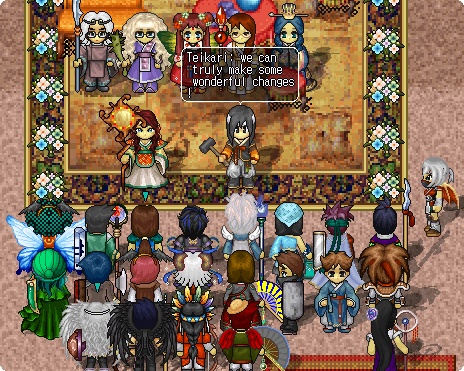 Teikari has already executed this role back during the days of
Yu Ryang village
and continues the duty to keep the legacy of the
Yon
family alive, together with the
Tae
family and others who joined at Kinung.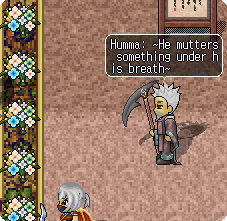 During the ceremony to announce Teikari an old enemy of the town appeared:
Humma
, the murderer of
Cheyn
(first Mayor of Kinung). Although he was carrying the Onyx with him last night, Humma did not try to cause trouble or harm. He simply watched the ceremony and left moments after.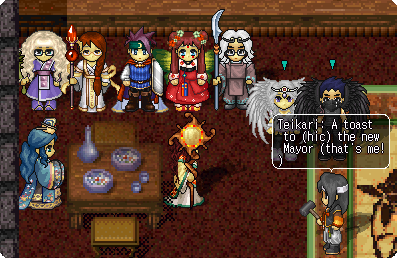 The festive day ended well in Kinung then as community members were all invited to join in the celebration at the tavern and share that moment of joy with Teikari. Sadly, the newly appointed mayor ended up drinking too much and had to be escorted back to his room. The drinking habit of Teikari is something he will have to work on.
~Vini Normad'or~
~Hyul 38, Moon 4~