Past News
Did you miss that important news story? Do you want to read what happened while you were on vacation. Here's where to get that info!
Our news software, Coranto, has a bug which makes it purge links to news articles more than two years old. What is left of programmers who volunteer their time to support this software do not know why this bug occurs. We manually index older news pages in our Archived News section.
| | | |
| --- | --- | --- |
| | | Nexus Forums are Up |

LordAchoo, our secret programmer fixed the problem by repairing one of our database tables that was corrupted. Time for all of the forums addicts to get back to trolling again! Many thanks to our favorite lurker LA!

AllyGator
Nexus Administrator
| | | |
| --- | --- | --- |
| | | Merchant's Receive Path Weapon |
After a very long wait, the Merchant Guild has finally received their subpath weapon. The weapon is a "
bullwhip
" which is quite suited for treasure hunting. This is the last of the subpaths weapons added. Every other subpath has their unique weapon already.
Merchant Guide Riane was kind enough to model the new weapon for NA as it can be seen below.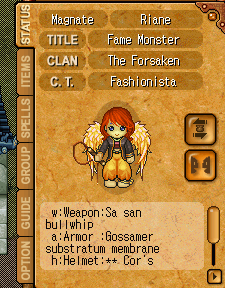 Thank you, Riane!
-RiaDora
| | | |
| --- | --- | --- |
| | | First Drop from Flower Boss in Gogoon |
Today, a group of brave adventurers battled the Flower Cave boss in Gogoon and received a great looking new staff.
The staff was obtained in tier 3 of the cave, and is a two handed weapon.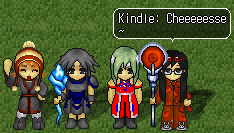 The brave and lucky group that got the staff CocoCrisp, Piff, Emerica, Kindle
Shining Azure Spiral
2,200 vitality
5,200 mana
-2 ac
+2 will
+2 might
+2 grace
Il San to wield

Congratulations!
Words from KRU: GM Stein is back!

Posted by: Vini

--

9:45 AM EST

Yesterday a new post was put on Dream Weavers board which will calm down the nerves of some members of Nexus community: KRU Interactive's first official contact since Mug left. The post was written by an old face, or at least an old name known by our community: Stein.

For those who don't remember Stein, he was the person who fixed the long waited rings/tribes system and brought it to reality. He has also helped introduce many carnage features for hosts and also added/fixed some offline removal options. Words say that he has already been in contact with elders and perhaps primogens in order to solve some urgent issues, but it's clear now that it has been Stein who has been helping overview Nexus during this time and was him who gave us the server reset last week.

Here's a copy of his post made on Dream Weavers board and Nexus official site letting us know about tomorrow's sever reset:

Although mug has left Nexus, the Nexus team will continue to support and update the game.

The Nexus servers will reset this Friday for the following updates:

Itemshop
New items will be released in the Itemshop on Friday May 28th.

Kruna Giveaway
All registered accounts on May 28th will receive 100 Kruna, Autorenewal accounts will receive 200 Kruna.

Game updates
A few long-standing subpath requests have been completed as we try to catch up on requests.

Those who have been unregistered and are considering coming back, this sounds like a good day to re-register, so you may still be rewarded with free Kruna tomorrow. It's good to be hearing from KRU again.

~Vini Normad'or~
~Hyul 32, Moon 3~
| | | |
| --- | --- | --- |
| | | Spades' First Official Act |


The new mayor of Kinung, Spades, has made his first Mayoral Statement as found on the Chronicles of the Wind board. With this statement, the ban on the Shaman within Kinung has been officially lifted and the proverbial doors of Kinung have been opened to all once more. Mayor Spades has announced his welcoming of all paths within Kinung as well as his commitment to deal with any issues of corruption or underhanded business that may occur both quickly and justly. Time will tell what the future holds for both Kinung and its new mayor!

Spades' Mayoral Statement:


Dear People of the Kingdoms,

First and foremost - thank you for your support
in this first ever election into the position of
Kinung Mayor. I am still reeling from the
excitement of the election, and ruckus that
it created in its wake. It was indeed a night
to remember!

But. It is time to get to business.

My first act as Mayor will be to lift the ban
on all Shaman, or any other paths, in the town
of Kinung. Indeed, atrocities have been committed
to this town, and to our past Mayor.. but too
many have come to suffer due to the acts of very
few.

Thus, I hereby open Kinung's doors to all those
friendly and interested in our town.

Do not, however, see this as an open invitation
for insidious forces to enter our town as well.

Within these new days of leadership, know that
any corruption or underhanded business will be
dealt with swiftly and without remorse. Too long
has Kinung been under a dark cloud.

That said - keep your eyes open for developments
to Kinung's governing system and livelihood!



Your Mayor,

`Spades.




-RiaDora

New Mayor of Kinung

Posted by: Caera

--

10:38 PM EST
The Kinung elections were held today in the Kinung Town Hall. Ten candidates (including
MiHi
and
Teikari
) stood at the front of the hall, and votes were taken aloud. Several people attempted to vote more than once, and many of these same people yelled "corruption!" claiming that some candidates had not been allowed to run and several duplicate votes had been counted.
It was impossible for me to take down the votes each candidate garnered, but the top three (who each reserved at least 10 votes) were passed on to a final round of voting. These three were
Rhetoric
,
MistPrince
and
Spades
. After the final round (which was, fortunately for my ears, conducted by mailed ballot),
Spades
was declared the winner and the new mayor of Kinung! He has provided a statement of purpose, which I include below.

As Mayor of Kinung, I plan to make myself
available to all organizations and individuals
who have interest in our town.

I wish to breathe new life into this place
after the sordid dealings that it has had
to endeavour in the past.

All are welcome to the town to enjoy it's
fruits and I ask any who wish to contribute
to it's revival to step out and offer their
hand.

Also, I would like to kickstart several new
positions important to Kinung, in order to
see that it becomes a place of regular
visit and interest in the near future.

To Kinung! A Place of Dreams!



Your Mayor,

`Spades
-
Caera
| | | |
| --- | --- | --- |
| | | Mayor of Kinung |

A day or so ago, JooChan posted on the Community board concerning the Mayor of Kinung with Cheyn's passing. It has been offered that members of the community may try and earn some votes to be the Mayor of Kinung themselves.

Citizens of all kingdoms,

Since the death of Mayor Cheyn, Kinung has been without consolidated leadership. This situation has gone on far too long. Kinung has many problems to face including apprehending Cheyn's murderers and threats from Mupa. Cheyn has been laid to rest, and now it is time to elect a new Mayor of Kinung.

Teikari and MiHi have already announced their intentions to run for Mayor, but now I invite anyone else who wishes to throw their hat into the ring to do so. Anyone may run, but all candidates must be approved by the Kinung Council prior to the election. Please send me a letter announcing your intentions if you wish to run. You may begin to campaign before approval, but if a candidate is not approved by the Council they will not be eligible to receive votes.

There will be a meeting to vote on the new Mayor soon, after all candidates have had time to campaign. ((Monday, May 24th, 8 PM EST/5 PM PST.)) Only those who attend will be allowed to vote on who will be the next Mayor.

-JooChan
-Historian of Kinung

((The position of Mayor is a purely RP position and carries no OOC authority. The Mayor MAY become a Kinung Councilor, if they are not already, pending approval from the gods.))

Good luck to all of you running!

May 19th Reset

Posted by: Vini

--

10:08 PM EST

After two weeks without a reset, the community members who were around this afternoon received an interesting nexus-wide message:
(([KRU]: Server reset in for 10-15 min))

Although it not known if the reset brought in any feature changes, it at least cleared the lag and serves which were crashing in the last few days. If anyone find any new aspect within the Kingdom of Winds, please contact me.

~Vini Normad'or~
~Hyul 32, Moon 1~
| | | |
| --- | --- | --- |
| | | Cheyn's Memorial |


A note has been posted by Mihi that details a memorial for the late Mayor of Kinung, Cheyn. The memorial will be held very soon ((Tuesday, May 17th at 8 p.m. EST or 5 p.m. PST)). The memorial will be located within the Forest of the Elders, which is just north of Kinung.


Mihi's posting on Call of the Winds:


It is with great sadness that I invite you all to my dear husband's memorial service. With help from the other members of the Yon and Tae families we decided to have a private funeral for Cheyn, but we will be holding a public memorial service on Hyul 32 ((Tuesday at 5pm pst / 8pm est)) at Cheyn's tomb ((73,16 Forest of Elders)). We will share our memories, stories and songs in remembrance of this great man. We welcome all paths and organizations which would like to contribute to do so.

-The Widow Mihi



-RiaDora

| | | |
| --- | --- | --- |
| | | New Barbarian Elder and DT's Retirement |
Yesterday,
XItachiX
stepped down from eldership of the Barbarians, and has put
KeLLa
in his place.
Thank you, XItachiX, for all of your hard work in the community and the Barbarian path, and good luck to the new Barbarian elder, KeLLa (Don't drink too much Barbarian brew in celebration)! Hoo-hah!


In other news, a few days ago the one known as Darkturtle has put up his old elixir bow, and has retired from Elixir wars. As posted from elixir host Bulletproof's community event post:
"Many years ago..there was a man..No..a turtle.. he ruled the Elixir field like no other being..he is one of the best, and will be the first inductee into the Elixir war Hall of Fame. But sadly, the Elixir champion is retiring on his 1337th elixir war." You will be missed, DT!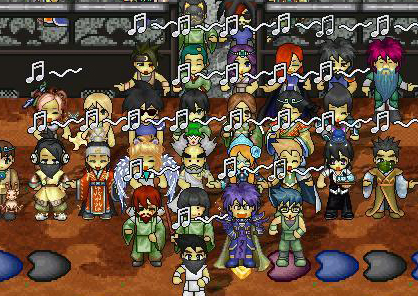 Mother's day

Posted by: Vini

--

11:45 PM EST
A proclamation posted by Princess
Lasahn
of Buya on Chronicles of the Winds board acknowledges today as a day dedicated to the devoted mothers. As her royal highness stated in her public statement, she has found an old letter that brought back memories of her mother. The letter seems to have been written while Lasahn was still not Princess of Buya and was actually moving there. While it is not known when
Ling Chun Yung
passed away, the letter shows she had a bit of divinity skills about her leading skills, or if not, might be just usual motherís way of encouragement. Hereís a copy of Lasahnís announcement taken from COTW:
~|A Message from the Imperial Sovereignty of Buya|~
Greetings citizens of Buya and neighboring lands,
Today, while I was rummaging through my personal belongings, I stumbled upon an old chest that has been kept underneath my bed for many years. The contents largely consisted of reminiscences of my childhood in Han, and there was a something particularly interesting in that box. I opened an old letter given to me by my mother which she wrote for my birthday. It was quite a small note, but very touching. Here's what she wrote to me:
Dear Lasahn,
The day you were born I looked into your eyes and saw
you had an unique spirit. I could see you were not a
common child and were meant to do great things. I see now
how special you are, my child. You were born to lead.
Good luck on your endeavors in the new lands of Buya with
your father. May this anniversary mark the start of your
new prosperous life.

From your mother who loves you,
Ling Chun Yung
This little memento brought back so many good memories of my mother, who has been gone from this world so long, and I do not think of her enough. Understanding, affectionate and intuitive, she was always there for advice and support. I guess those are qualities of being a mother; aren't all of them harbors in rough seas, endeared beacons on dark nights? I wish I could still tell my mother how much I appreciate her. Citizens of Buya, and of all kingdoms, should take the chance to do the same while they can.
Thus, I hereby declare today to be a day dedicated to our devoted mothers!
~Princess Lasahn~
~Head of State of Buya~
While families celebrate mother's day around the world, seems like Nexus found its own way to commemorate a day dedicated to our moms. Nexus Atlas would like to wish everyone a wonderful Motherís day and pay respect to all our mothers, grandmothers, stepmothers, adoptive mothers and mothers-in-law (ok... not all mothers-in-law, but at least some of them).
~Vini Normad'or~
~Hyul 31, Moon 11~
Nexus won't be without GM

Posted by: Vini

--

7:26 PM EST

Ever since Nexus lost GM Mug in April 30th, members of the community have been worried about what would happen to the Kingdom of Winds. "Can Nexus survive with no GM?" is what most people are wondering. Yet, Archon Primogen Dalnum made sure to calm down the worries of people by informing us that there will be a GM helping nexus. Here's a copy of her post in community board:

I know some of you have been worried sense we lost mug however I want to reassure everyone that we will have gm help.

dal

Her information seems to come directly from KRU, we shall now just wait to hear about who will be the new GM helping nexus since no name was mentioned, but now we're sure that we won't be without overview.

~Vini Normad'or~
~Hyul 31, Moon 11~
Dreams List Updates

Posted by: Songa

--

10:45 PM EST
A few days ago, the Dreams Archon Aeons posted an update on the board
of feasible dreams that he has collected over the month and sent
to mug (before his departure) for approval.
Here is a copy of the
list
:
Dreams that have been done recently:
- A Merchant to sell experience located in Wilderness village
- Sa san Rogue's vita attack be fixed
- Speed up the pets to keep up with the owner in a run.
- Vita and Mana bars for group members.
- New metal and more incentive to high levels smelters
- More wigs to purchase from Item shop (144 new wigs)
- Create a Spring Dye potion
- New ways to obtain karma
- Add more repeatable quests
- Add more option of items to be exchanged for Pirate coins
Dreams that will be done but require much time and work:
- More resolutions for windowed nexus (this is possible but not at this time)
Dreams that will be looked into:
- Ilbon armors / Spring Heavy Plate / Jubilee plate become
Coats instead of armors (people would lose engraves)
- Give unique graphics Ice/Warded/Dread vortex armors and
different from wisdom clothes
- A new clan/subpath broadcasting feature: Clan invites all to
read about the "clans" event on C.E."
- Have a timer for when will the next wisdom clothes be
available similar to Sage spell
- Ability to throw money like dropping money
- Upgrade Sell board so it's required to post a range price
of a selling item
Dreams that are not going to happen at this time:
- More space for writing a profile
- Subacessories similar to Crusades that reduce stats/spells of
Tangun visitors (this is complicated)
- new emotion for couples when afk next to each other with a
heart between them (no new emotions at this time)
- Player asking for Oh San trials
Dreams that won't come true:
- Change mining into dropping just pick (like Lost Mines)
- Ee culture trial done by mastery of skill count as
wealth trial
- Make Lucky event items repairable
- Same sex marriage (Blood oath was created for that)
- Request that If character is old, allow to purchase Sage 5
for 500k all at once.
- New graphics for Mage/Poet Sa San "shield"
- Kugnae/Buya Fox caves look like Tangun Fox cave (Both caves
have been updated already)
- Ability to change the hand that wields weapons, mirror the
character (Not Possible)
Remember everyone! Aeons is looking at everyone's dreams and
sending them to the correct outlets. Here's to hoping the new
Game Master keeps this up!
| | | |
| --- | --- | --- |
| | | We Smile Here! |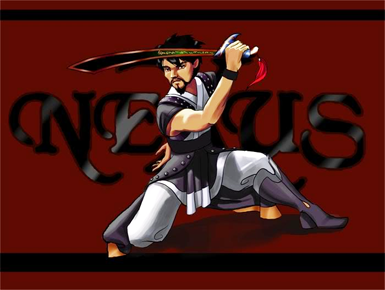 April 30th was Game Master
Mug
's last day in the Nexus.
It has been a total of 48 months, or exactly 4 years, that Nexus was under the oversight of Dream Weaver Mug. He endured this challenge longer than any other Game Master Nexus has ever had. While inside Nexus's folklore GMs have always been seen as "gods", this word makes it seemed like he was a person who controlled everything and did not communicate with his people. Mug was much more than a "god" in nexus. He was a legitimate "Weaver of Dreams". Upon his arrival it did not take long for him to start fixing issues in the game that had bothered players for so long, including: subpath hunting balance, most peasant abuse and the long-promised Rings and Tribes system. In recent months he dedicated himself to the islands project, something promised to players since the release of Nexus 6.0 graphics. Although the islands weren't originally his idea, he had enough respect to bring it to game.
Mug was also different because instead of keeping a "godly" distance from players, he was often out among the people. He talked and chatted with mortals as if he was just one of us and became friends with dozens of us. He showed respect to leaders of clans, subpaths and other organizations and to those players who passed away in real life. He never limited his attention to only the "leaders" of the game and many others interacted with him through events and random visits. His weekly posts on the Dream Weaver board showed his commitment to work and to keeping the community informed of what was going on in the game. It showed people that the game was never stagnant and although we weren't seeing major updates weekly, we were told that updates were coming and could look forward to them. We cannot forget to mention how Mug often helped Nexus Atlas by supplying us with maps and item graphics released in game, saving us lots of time.
During Mug's final event, many players began to wonder if Abu could actually be the new GM. Although the confusion seemed intentional, it was clear to many that Abu could never be Dream Weaver due to the simple fact that Abu did not have Mug's passion for the game and its players. Abu was extremely powerful and confident. He certainly had his own unique vision of how Nexus should be. However, Abu did not have the true power in Nexus; the strength of its players. This is above all Mug's greatest achievement in Nexus. Below is a list of his other great accomplishments that changed the game forever:
Made several graphic updates such as: Book of Songs, Honor sword and many others

Revived Tree of Reflections

Ensured the creation of the long waited Ring & tribes

Added prizes for Fox hunt win

Created the Crusades battles (Bloodlust)

Fixed over two hundred of map glitches around the kingdoms

Created "Trigram set", a way to combine all keys into one item and free space in inventory and bank

Added several new subpath dyes (Muses, Monks, Shamans, Diviners, Chonguns, Druids)

Moved Koguryo's story forward in the "Death of Yuri" event and subsequent "Mhul's Coronation"

Created Haengsa and his set of quests which lasted in nexus for many months.

Added comma to gold exchanges which prevented dozen of scams and monetary mistakes to happen

Added hundreds of subpath and clan requests over time

Brought to fighter subpaths balance by giving each new PC subpath a hunting "rage" and "cunning" type spells and other subtler changes

Added Sam San and Sa san ingress to all warrior's subpaths and also for rogues

Added new effects to several spells of different paths (such as curse)

Created Winter wonderland set of events for Christmas seasons

Created a special Santa dress for girls.

Created Imperial Runway at northeast of Buya

Created a whole new tutorial place: Tangun

Raised the maximum free-to-play level to 49

Upgraded Woodlands to be useful for higher level of players, instead of a place for new players to hunt

Created Woodlands diary quest.

Saw through the creation Sa San, including spells, quests, and items

Created and implemented Hamgyong Quests, including Overlord B'Gnngh and Seal of Nngh'Zan

Brought event of Pirates vs Han war, allowing players to choose sides

Had interactive events with players by hosting "Send a Mug to Mug"

Created and added several subpath weapons by request

Added several new mounts to the game

Turned wisdom clothes into coats and brought to life several dreams of players

Gave away "Legends of the Winds" comic books during an event and had a counterpart event for foreigners

Upgraded Justice hall and judges functions that helped a lot their work on daily basis

Handed out thousands and thousands of free Kruna to registered accounts through this time

Created the "Wisdom star" events and with it a bonus of experience for few days (Blue moon)

Created all sub-accessories currently available: melodic flutes, gutuls, diamonds, cambiums, medullaries, floret pendants, and teapots

Added farming skill to the game

Brought the "Ancient Training Grounds" events and later turned them into a permanent hunting cave

Allowed players to purchase way more than just 100 bank slots per characters through Kruna shop

Brought in a Youtube video contest for players to create their own video of the game

Implemented the windowed version of Nexus

Implemented Pets system

Added Guk-su to Dae shore, who allows players to check how advanced they are in their crafting skills

Brought back the option to have a group of 13 players

Brought major changes to Minor Quests, including experience increase for Il, Ee, Sam and Sa sans and doing more than one quest per day

Implemented several assets to encourage roleplay: Brought Mupa and other series of RP characters back and created a RP town, with restricted rules for RP: Kinung

Changed Nagnang Army into Covenant clan and allowed Nagnang's history to move on with the arrival of ChaeRi

Added Gogoon island and started a new huge area of the game with hundreds of new quests and many new hunting areas

Created a new action sport: The Ultimate Gauntlet

Added Mana bars to group tabs




Besides these, there's a big and long list of additions that Mug brought to the game on the Dream Weavers board. Many others are not even listed there but will be kept in memory of all those who may know or remember them.

For all Mug has done to Nexus and all he represents to its people and from everyone here at Nexus Atlas, this is our tribute to the greatest Dream Weaver we've known: A big THANK YOU for all you've done and good luck on your new endeavors!

Signed,

| | | | | | |
| --- | --- | --- | --- | --- | --- |
| | | | | | |
| Allygator | Caera | Diskord | Kikoura | LeAnnder | Musoyen |
| | | | | | |
| Rachel | Riadora | Skum | Songa | TSWolf | Vini |
Mug's final letter and the Tribute board

Posted by: Vini

--

12:42 AM EST

Last friday, two important posts were put on community board regarding Mug's leaving. Archon Primarch Maiyu has retrieved a letter from Mug that apparently was written before his sacrifice to save the Nexus against the treacherous Abu. Here's a copy of his letter in which he shows that he already knew what could happen to him if he didn't return:
------------------------------------------------------------
Date: Hyul 31, 7th Moon, 27th Sun

to nexus players and archons:

i never thought this day would come as i sit here banished by abu from my own kingdoms.
i write this letter with lots of sadness but no regrets.
i know that the only way i can save the nexus is to sacrifice myself for it.
this will take each player's power and trust in me to fulfill.

this is something that i will do willingly for the people of nexus, they have been like family to me for so many years now and i will miss them very much.
in case i do not return from this fight i wanted to say thank you to everyone who made the land and community what it is.

i am and have only ever been one jester and it has not always been easy to cope with the demands from the people, but i have tried to listen and done my best to answer.
it is you players that make or break the community, and you should look after each other.
i cant watch over you anymore and i hope you will make a future immortal feel welcome in the lands.
not everyone will have liked some of the things i have done, but i did them for you, and i hope that you all respect each other, even if you don't like them.

i go now to make my last stand against abu, and wherever it takes me, i will carry you all in my heart.
so many memories and friends, emotions and experiences.

i smile here.

goodbye nexus

mug

Shortly after that post, Archon Primogen Dalnum has also put something on community board for public view. She informed people about the existance of a new board called Mug's tribute and those interested may go and check the first post there made by Dalnum which is about Mug's history, it's a great text and can't be missed. Here's a copy of Dalnum's post in community board:

As you know our beloved gm Mug recently made a huge sacrifice
on behalf of our Community. We will no longer see or hear his renowned *I smile here* trademark.

Yes he saved all of us but because of this we have lost a wonderful gm. You will notice when you visit his workshop he left for us a board called Mug's Tribute, so please if you
would like to make a personal tribute to mug please send your posts to Sungil who will see that your post is placed on mug's Tribute board.

Thank you

Tribute letters should be sent to Sungil.

The board has already started being used. Some players have already submitted messages and few of them were posted on tribute's board already. While then, we of Nexus Atlas decided to do a tribute of our own which you can see it just above this post.

Good bye Mr. Mug! You'll truly be missed by us.

~Vini Normad'or~
~Hyul 31, Moon 10~
Flower cave boss & new Rhino armors

Posted by: Vini

--

4:39 PM EST
Last week a new hunting ground in Gogoon Island was opened. It's called
Rock Garden
or simply known as
Flower cave
. It didn't take long until the boss of Plumerias and Rose buds was found. He's called King Trogodyte and so far it's not known what it drops. Here's how he looks like: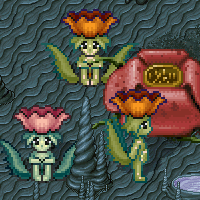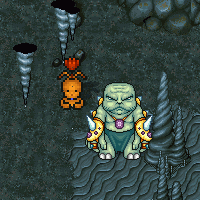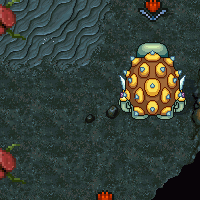 For those who haven't visited the new cave yet, it is located in Gogoon island at
097 115
. The cave is tiered which means it has multiple levels (1-4), with 4 being ee san+.
While the drop of Flower cave boss isn't known yet. The drops of Rhino cave boss are still being uncovered. Here's how
Juggernaut Bodice
(female warrior armor) looks like:
Enscorcelled Drape
Durability - 2000000 / 2000000
AC: -36 Hit: 1 Dam: 0
Vita: 1000 Mana: 1000

Might: 1 Will: 2 Grace: 2
Protection: 0 Regen: 20 Wisdom: 0
Mage Sam san (Female)
Juggernaut Bodice
Durability - 2000000 / 2000000
AC: -44 Hit: 1 Dam: 0
Vita: 1500 Mana: 1000

Might: 1 Will: 1 Grace: 1
Protection: 0 Healing: 20 Wisdom: 0
Warrior Sam san (Female)
If you find new items or monsters, please send a .bmp screenshot of it to any Nexus Atlas reporter. Special thanks to Sitliths for supplying info and image of King Trogodyte and to Logorin for supplying image of Juggernaut Bodice.
~Vini Normad'or~
~Hyul 31, Moon 10~
P.s. I'm not sure why, but everytime I look to the Trogodyte, the word "Tokka" comes to my mind. =P
Ghostly Warlord

Posted by: Caera

--

11:47 PM EST
WenMu, the Shaman on the far side of Gogoon Island, mentioned offering Maataliki the Ayin Horoh gained from doing previous quests for him on Gogoon. Crucial, Wimp, bigsexy, Hooje, and IldritchFire took him up on this and tried dropping and Ayin Horoh around the statue (which is located at 45,140). By doing this, they summoned the
Ghostly Warlord
. Nobody's been able to kill it yet (it heals extremely quickly), so nobody knows what he drops. It is known that after just summoning the warlord, WenMu will give you 2 million experience and a pirate coin.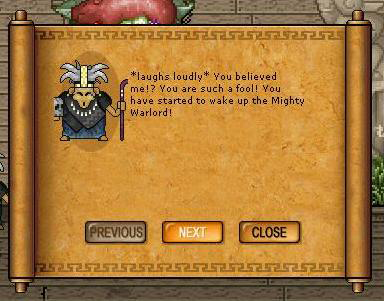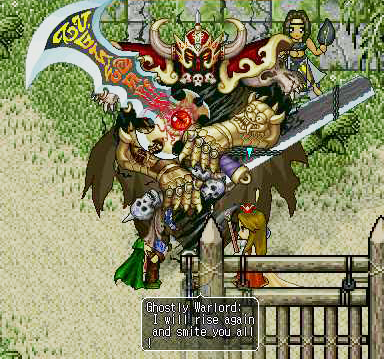 Have you managed to kill this big guy? Please let me know.
Thanks to bigsexy for reporting this to me and providing screenshots.
Caera
New Kruna Items!

Posted by: Songa

--

7:53 PM EST
Fashionistas of the land, there is new Kruna!
Get your ideas flowing and your wallet full, for here they are:
| | | | | |
| --- | --- | --- | --- | --- |
| | | | | |
| Do fillets, mukutas, and tiny gold crowns bore you? Have you ever wished to add some height to it all? Well, here's your chance! By wearing the ornate crown, you will achieve that extra height that will shock and amaze everyone.(including your enemies!) If you pair it up with the ornate gown, you will achieve the combination of class and a little bit of skin. | But don't fret men, there's a matching outfit for you as well! Pretend you enjoy the outfit your wife made you wear with this adorned crown and mantle, or truly just enjoy looking fabulous. ;) | Have you always admired MiHi's outfit and wished you could one day be that chic? Well, the day is today! Wearing the imperial gown will definitely let you shout "regal." Match it with the wonderful wig, ornate tie, to complete the look! | Men, you need not worry about looking like your wife dressed you with this. Send fear into the hearts of even the greatest philosophers and be appropriately dressed in front of Royalty (they might mistake YOU for royalty too!) with the imperial wrap and robe. | Dear muglettes and muggies, have you always wanted to have mug's famous hair do but were too afraid to ask him? Well, here's your chance! Confuse all of the peasants in the land with the mug. But remember! Impersonating an Archon or God (even past ones) is still a big no-no. But, don't forget to wear your black shades to complete the look! |
| | | |
| --- | --- | --- |
| | | New Sam San armors: Enscorcelled Robe and Dreadscale mail |
brolik, kEum and group of 7 others took on the Rhino boss in Gogoon Island,
Lord Badak Api
, to discover two new Sam san armors: Dreadscale mail and Enscorcelled Robe. Here's the details about these two new items:

Enscorcelled Robe:
Durability - 2000000 / 2000000
AC: -36 Hit: 1 Dam: 0
Vita: 1000 Mana: 1000

Might: 1 Will: 2 Grace: 2
Protection: 0 Regen: 20 Wisdom: 0
Mage Sam san (Male)
Dreadscale mail:
Durability - 2000000 / 2000000
AC: -40 Hit: 1 Dam: 0
Vita: 1000 Mana: 1500

Might: 1 Will: 1 Grace: 1
Protection: 0 Healing: 20 Wisdom: 0
Rogue Sam san (Male)
Way to go folks!
AllyGator
Hyul 31, 9th Moon
Winning The Gauntlet

Posted by: Caera

--

4:40 AM EST
To win the Gauntlet, you don't just have to survive the longest. You must reach "The Ultimatum," a room at the center of the gauntlets. If you're in the East Gauntlet, head west to reach the center, and so on.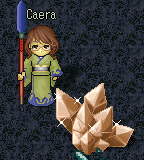 Once you make it to "The Ultimatum," you must stand next to the tan crystal there to earn your win. Click the picture above for a larger view of the room.
Caera
A... Joyous... Occasion

Posted by: Caera

--

12:36 AM EST
A wedding was held, or at least begun, in the Garden of the Muses tonight. The Muse Lycurgus, previously noted on NexusAtlas (post
archived
, see April 21), was set to wed the Muse Skum. While the groom was exceptionally pushy, the ceremony otherwise began unremarkably.
As they began their vows, Muse Maestra Soleil shouted "I OBJECT!" As she screamed that Lycurgus was a madman, the candles suddenly died out and the room went pitch black. Mupa appeared beside Lycurgus, hissing "your objections mean nothing. This... man... has something which belongs to me."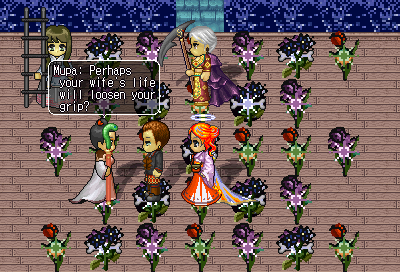 Mupa demanded the Book of Stones which Lycurgus found in the Muse Library some time before, and Lycurgus refused to give it up. Mupa claimed that the bookk was hers, and that the powers described within it were hers alone. "The book or your wife!" Mupa cried, but Lycurgus refused to give. Mupa then killed his wife Skum with a tornado of fire... before killing most of the guests too.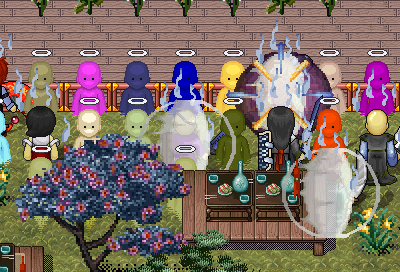 Mupa and Lycurgus argued more once all present had been resurrected by Monk MaeJi, but eventually all were killed once more as Mupa made her exit, threatening to make Lycurgus' life a living hell until the book was hers once more. "Mupa is lost without her book," Lycurgus claimed as she disappeared.
It was decided that the wedding should continue, but again Soleil injerjected: "No Muse of mine will marry you! You cannot have her." Skum attempted to reason with her elder, but to no avail. Her pleas ("Every great, even Godly, man deserves to have an equally great and powerful woman to stand beside him") fell upon deaf ears.
During the argument it was revealed that Lycurgus is not a secretary to Peisinoa and Teles, assistants to the Muse goddesses Thalia and Melpomene, as he had originally claimed, but he would not reveal his true origins despite significant pressure. Just who is Lycurgus? What does he intend to do with the secrets within the Book of Stones?
Caera