Past News
Did you miss that important news story? Do you want to read what happened while you were on vacation. Here's where to get that info!
Our news software, Coranto, has a bug which makes it purge links to news articles more than two years old. What is left of programmers who volunteer their time to support this software do not know why this bug occurs. We manually index older news pages in our Archived News section.
| | | |
| --- | --- | --- |
| | | Server Reset Returns Lost Valentines Legend Mark! |
Our newest Server Reset brought a host of changes, multiple adjustments to various gogoon caves as well as the ability to re-attain the Valentines Legend Mark that most of us had lost recently.
See below for the post/walk-thru!
BOARD TITLE: Dream Weaver
FROM: NexusTK DATE: 5/26
SUBJECT: Server Reset - May 31st, 2017


- Bird 3 mobs further weakened.

- Turtle 3 exp increased.

- Flower 3 has not been changed with this reset.

- Partial 2017 Valentine's event to restore the lost legend mark.*

* We apologize for the loss of the legend mark for the completion of the Valentine's event. It was our system glitch, and individual legend mark restoration was almost impossible, so we put the part of the event back for the people who want the legend mark. It shouldn't take very long to restore the mark, and there is no item given out. Again, we sincerely apologize.



To regain your 2017 Valentines legend mark "Helped Star-crossed lovers tie the knot" complete the following half of the Valentines Quest:
Subing is just so excited by the prospect of marrying her true love, that she wants the entire affair to be just right!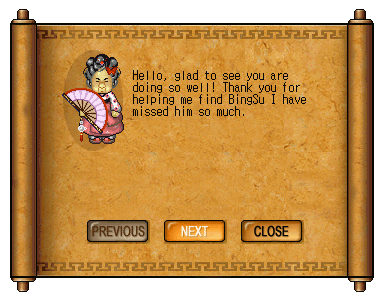 She asks you for the following:
a) Callalily Bouquet
This is made by bringing : 5 regular cloth, 2 fine cloth, a ribbon and 5 callalilies to the decorating table found at the Crystalline Chapel in Arctic Land. (069,053)
Note: Callalilies are found at the Great Tree in Wilderness (104,006).
b) She also asks you to book the Master Entertainer for her wedding!
Note: Bring a moon wine with you for this part, obtained from Baegil Shop in Kugnae (196,200) for 100 gold coins.
Visit the Kamchatka Ballroom in Arctic Land (036,027) and save the Master Entertainers Sheet Music from the "Love Doves".
Collect 3 of the sheet music and turn both those and the moon wine into the Master Entertainer to receive an Entertainer Token.
Once you've collected both items, bring them to Subing and receive a mark, "Helped star-crossed lovers tie the knot".

All items needed for this half of quest:
5 Callalilies

5 Cloth

2 Fine Cloth

1 Ribbon

1 Moon wine

3 Sheet Music

**Love Doves No Longer Drop Valentine Dye**

*;'IcePixy';*
Hyul 88, 5th Moon, 6th Sun
| | | |
| --- | --- | --- |
| | | Broken Weapon Skin? No Problem! |
CoverGirl has reached out to any members of the community that may have a broken weapon skin and need help restoring it!
She asks that you simply fill out the form below and send it in to her ~ Do try to have a wee bit of patience... I'm sure there's tons of us out there that made an oopsy with our weapon skins! *grins*
BOARD TITLE: Dream Weaver
FROM: NexusTK DATE: 5/26
SUBJECT: Server Reset - May 31st, 2017


Hello,

If you have a broken weapon skin, please send me an Nmail, with the following information:

Title : Broken weapon skin
1. Character name:
2. Exact skin name:
3. Weapon the skin was used on:
4. Cause of the loss:
5. Time:

We will try our best but we may not be able to restore it in some cases. Please understand.

It takes time. I will contact you when it is done.

Thank you and please be careful.

** CoverGirl

P.S. Item Shop is updated :)


For an idea of what's just been released in the Item Shop take a look, there's certainly a ton of colors and styles to choose from!
Head
: (pass the cursor over the image to check color names)
Mantle
: (pass the cursor over the image to check color names)
Coats
: (pass the cursor over the image to check color names)
SALE ITEMS:
Brown Cat Eyes - 100 Kruna
Watermelon/Keylime/Tangerine/Licorice Casual Hair - 80 Kruna
Berry Casual Hair - 50 Kruna
Gray Mukuta - 150 Kruna
Evening/Twilight/Natsuno Rosy Crown - 75 Kruna
Rapture Rosy Crown - 50 Kruna
Violet Snazzy Spikes - 85 Kruna
Lime/Chocolate/Strawberry/Sparkling Baeja Knob - 100 Kruna
Plum/Grape Dangui Coat - 75 Kruna
Berry Dangui Coat - 250 Kruna
Berry/Chocolate/Grape/Zesty/Sparkling Baeja Coat - 250 Kruna
Blue Snazzy Suit - 225 Kruna
Enjoy the summer kick-off items ~ More to come, I'm sure!
*;'IcePixy';*
Quick Note

Posted by: Vini

--

8:19 AM EST

Just a quick note, I'll be temporarily away until June 6. If you need any help with Nexus Atlas content while then contact Linuxkiddy, any technical issue contact LordAchoo or Ferro and news reporting suggestion contact any reporter.

Signed,
Vini
| | | |
| --- | --- | --- |
| | | Whirlwind Orb Returns With Newest Reset! |
This morning yet another storm hit our kingdoms, this time bringing back the one,
the only, the amazing Orb of WhirlWind Ripple!
While it isn't known whether it remains the same as previous, the warriors finally
have an orb of their own to play with again.
*WARNING*
ORB ONLY LASTS 24 HOURS
Cost for sa san's: 75 malgal insignias and 500k
More details to come as testing is done.
A small update to Bird 3 experiance on Gogoon Island was also implemented.
Many EE san hopefuls have been stuck fighting the monstrous, yet beautiful flowers
on the island for years, will this make it comparable to Flower 3 at long last?
The post may be seen below:
BOARD TITLE: Dream Weaver
FROM: NexusTK DATE: 5/26
SUBJECT: Server reset - May 26th, 2017


- Bird 3 mobs adjusted for better Exp.

- Fragile orb of Whirlwind Ripple returns.




*;'IcePixy';*
88th Hyul, 3rd Moon, 25th Sun
| | | |
| --- | --- | --- |
| | | Server Reset Early This Morn'! |
This morning, as chaos rose around us, we learned through the Dream Weaver
of a few changes in our lands. One exciting change being an adjustment to the
previous experience distribution!
Take a peek at NexusTK's post below for details:
BOARD TITLE: Dream Weaver
FROM: NexusTK DATE: 5/18
SUBJECT: Server reset - May 19th, 2017


- Exp. distribution adjusted. Please note this adjustment is TEMPORARY, and may change along with other changes.

- EE crafting mastery coupon removed.

- Minor adjustments and bug fixes.


*;'IcePixy';*
~Hyul 88, 1st Moon~
| | | |
| --- | --- | --- |
| | | Happy Mother's Day Kruna Released! |
CoverGirl has surprised us all with a brand new weapon skin,
specifically for all us Mama's out there!
Take a peek below to see what she has to say.
BOARD TITLE: Item Shop Announcements
FROM: CoverGirl DATE: 5/13
SUBJECT: Happy Mother's Day!


Happy Mother's Day!!

All the
Beautiful, colorful
Flowers
for YOU,
mothers, grandmothers, aunts,
and mother figures!

All of us
in the Kingdom
would like to say
THANK YOU!!


** CoverGirl


Make sure to get one of these gorgeous bouquets for a wonderful
mother you may know, especially if it's yourself!
Weapons
: (pass the cursor over the image to see Item Details)
*;'IcePixy';*
~Hyul 87, 12th Moon~
An Ode to the One who mastered all 4 Paths

Posted by: Vini

--

3:25 PM EST
Once you reach level 5 you have you choose your path. So far, only one could claim them all.
She is the warrior who faces all challenges with bravery to defend her offspring.

She is the rogue who is able to disarm traps, pick locks and unmask on foes who threaten her heirs.

She is the mage capable of mysterious feats that no science could explain to benefit her lineage.

She is the poet who has the natural ability to heal all your wounds with the power of love.
Her codename is mom, and this is her day!
Happy mother's day to all women who mastered the 4 paths and are the natural guardians of their children.
---
Beltane Festival Ends

Posted by: Vini

--

12:50 AM EST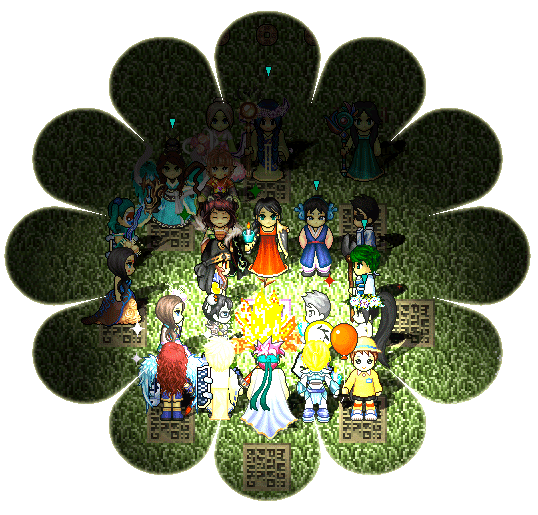 The Druid's Beltane Festival ended today. The festivities that mark halfway between the spring equinox and the summer solstice. During then, rituals were performed to protect the cattle, crops and people, and to encourage growth and fertility.
The closing rite was performed late evening by Druid Elder Foxfire. As she built a bonfire on the center of the Mystic Garden, various flower types began blooming around of the garden. The elder asked the help of Druid Chamber, Tyrra and all other people present to assist with the tradition of gathering flowers and laying on the festival altar next to the ceremonial fire. After that Druids asked people to join them in a silent walk of reflection around the garden to appreciate the coming light and making it through the cold days of winter.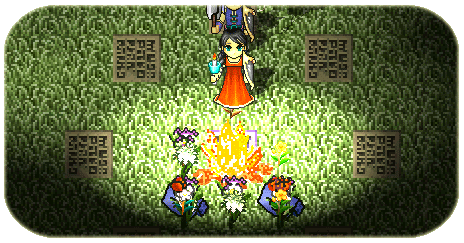 The elder concluded the ritual asking everyone to gather around the fire and thanked the greatest mother of all: "
Thank you for reflecting with me on our walk. We hope that Mother Nature will bless us all at this time of year
", said Foxfire. "
Thank you for celebrating Beltane Festival with us. And we look forward to seeing you at Lughnasadh Festival. Blessed be and safe journeys
", she concluded.
For those who participated in any of the events hosted during Beltane's Festival yesterday, Foxfire instructs them to contact her in order to get the legend mark recognition.
~Vini Normad'or~
~Hyul 87, Moon 12~
The Winners of the Relay Race

Posted by: Vini

--

8:45 PM EST
The first international relay race was held today hosted as a collaboration event between the ministries of the Tri-kingdoms. It counted with the presence of Queen Lasahn of Buya who went to watch and show support to all racers gathering at north gate Buya and counted also with the presence of the young Sutsang, Princess of Nagnang who insisted on participating of the relay race as part of Nagnang team.
Instead of a baton, the items exchanged between the races in each of the checkpoints were engraved tokens with the name of the capital of each team.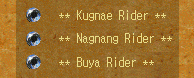 The checkpoints as previously mentioned were northwest wilderness, north Kugnae, entrance of southern Koguryo and Nagnang's northwest entrance. The starting line of the race was Buya's north gate and finish line was at Nagnang's South gate.
The teams were organized with the following organization:
Team Buya: ChangLautze -> Irulan -> Lilly -> Sayako -> Rylee

Team Koguryo: Hugo -> Maven -> AzNCloudboi -> Amatus -> SleepNTrap

Team Nagnang: Nocturne -> Aimy -> Sutsang -> Ferro -> Guotie

The winning team of the first Tri-Kingdom Relay Race was Team Koguryo, with Team Buya in second and team Nagnang at third.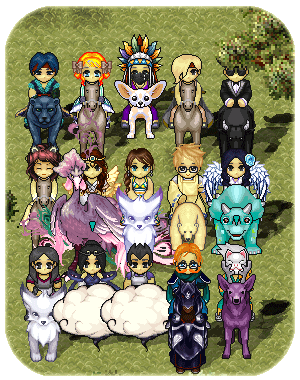 The prize? 5 million coins divided by the 5 members of winning team and 500,000 coins for each person to cross a checkpoint first, which in this case were all of Koguryo team. Therefore, each racer left the competition with 1.5 million more coins in their pockets.

Congratulations to the winners and all competitors!

~Vini Normad'or~
~Hyul 87, Moon 12~


---
Tri-Kingdom Relay Race

Posted by: Vini

--

1:52 AM EST

The Eternal Order of Nagnang has challenged the Ministries of Buya and Koguryo to a Relay Race accross the kingdoms. This mounted competition will happen today, Saturday May 13th Starting 6pm EST starting at North Gate Buya. There will be a prize for the winners of each leg of the race with a grand prize for the winning team.


Start: Buya North Gate

Checkpoint 1: Wilderness North Entrance

Checkpoint 2: Kugnae North Gate

Checkpoint 3: Southern Koguryo

Checkpoint 4: Nagnang North West Entrance

Finish line: Nagnang South Gate

This seems to be the first event of the kind which takes advantage of the kingdoms being merged into a single server.

~Vini Normad'or~
~Hyul 87, Moon 12~
Druid's Spring Festival Has Began

Posted by: Vini

--

7:07 PM EST
Today Druids are celebrating opening ceremony of the
Fire Festival of Beltane
, a yearly celebration which is taking place at the Mystic Garden today and tomorrow. Such ritual is one of the four Fire Festivals they have during the year, each with a different theme:

Imbolc
- celebrates warming of weather during midwinter (February)

Beltane
- celebrates fertility and growth (May)

Lughnasdh
- celebrates beginning of harvest and of many marriage (Aug)

Samahain
- celebrates end of harvest and preparations for new year (Oct)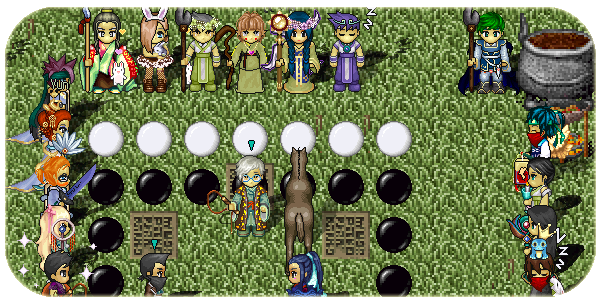 This version of the yearly festival is counting with the illustrious presence of
Yun
, the Royal Queen of Koguryo.
Below is a copy of schedule of events:
Friday, May 12 --
4:00 pm EST - Opening Ritual
4:30 pm EST - /|\ Bridge of Flowers
5:30 pm EST - (\/) The Ten
6:30 pm EST - ('/.) Geo Jumbles
7:30 pm EST - [M] Devil's Dance
Saturday, May 13 --
5:30 pm EST - <-(|-<< Archery Tournament
6:30 pm EST - /) Fortune Revealed
7:30 pm EST - (>|<) Barbarian Healout
8:30 pm EST - ./` Path of Flame
9:30 pm EST - Closing Ritual

To participate go to Sacred Grove at Wilderness at 173,213. Those who participate in the events will be recognized with legend mark acknowledging that they've celebrated a druid festival.
~Vini Normad'or~
~Hyul 87, Moon 11~
| | | |
| --- | --- | --- |
| | | May's Kruna is Released! |
While Easter may be over, the fun has just begun! CoverGirl has released play outfits as well as some other great items, including outfits for the men out there, check out the post and items below.
BOARD TITLE: Item Shop Announcements
FROM: CoverGirl DATE: 5/4
SUBJECT: Play time!

Hello Kingdoms~

Easter egg hunt ended, all eggs are gone now. Did you have fun? I was watching you play with the eggs and saw 'The egg breaks and covers your hand with yolk.' I realized you may need playtime attire.

Here are the Recess outfits and the Recess garbs. It is getting warmer and hot so don't forget your matching Recess lids and buckets.

Oh, worried about all the dust while you are playing, running and digging? How about getting a Bandito? I put 6 different colors. You may also need a Puppy pack to carry all your toys and small rocks, unripe acorns, gingerroot, starfish, coconut... things that you collect. You know where you find them all? Right, Gogoon Island! I found out Gogoon is very nice place to play with all the little friends there and even you can learn new dances there. Gogoon scroll is on sale now so it's prefect time to play there.

Now you ready?
Play time~~ and not worry about your clothes getting dirty.

**CoverGirl


Usable Items
: (pass the cursor over the image to check color names)
Face
: (pass the cursor over the image to check color names)
Head
: (pass the cursor over the image to check color names)
Mantle
: (pass the cursor over the image to check color names)
Coats
: (pass the cursor over the image to check color names)
There's also a ton of items for sale, including Gogoon scrolls!
SALE ITEMS
Gogoon Scroll - 100 Kruna
Blush Turtle Shell - 800 Kruna
Ambergris Turtle Shell - 800 Kruna
Clay Turtle Shell - 700 Kruna
Grey Shocked Eyes - 100 Kruna
Brown Shocked Eyes - 100 Kruna
Black/Red/Nuage Recess Lid - 75 Kruna
Green/Lavender Recess Bucket - 50 Kruna
Maroon Recess Bucket - 75 Kruna
Forest/Blue/Fern Clerics Knot - 50 Kruna
Onyx/Samidare/Bloodstone/Harumeku/Kunzite Kanmuri - 50 Kruna
Olive Princely Coif - 50 kruna
Flowery Luxor/Opaq Hair - 250 kruna
Teal/Golden Warrior Tie - 75 kruna
Lilac/Lavender/Grey/Slate Butterfly Bow - 50 kruna
Shamrock/Electric Wise Hair - 65 kruna
Lime Recess Outfit - 250 kruna
Green/Maroon/Lavender Recess Garb - 250 kruna
Samidare Haori - 250 kruna
Lime/Cocoa Dainty Dress - 250 kruna
Royal Dainty Dress - 75 kruna
Leather/Spruce Princely Jacket - 150 kruna
Bridesmaid Dress/Groomsmen Vest - 150 kruna
Bronze Koromo Robe - 100 kruna
Prism Hanbok Set - 250 kruna
Horizon Baji Set - 250 kruna
Enjoy *grins and waves*
*;'IcePixy';*
*;'Hyul 87, 11th Moon';*
The SeaNymph Returns To Underwater

Posted by: Vini

--

10:14 PM EST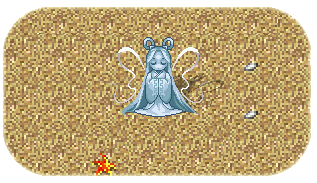 It seems that as of today the Sea Nymph has departure from Dae Shore after collecting enough material to perform the ritual of cleansing the waters. Here is a copy of her post on Chronicles of the Winds board:
BOARD TITLE: Chronicles of the Winds
FROM: SeaNymph DATE: 4/27
SUBJECT: To those who sought my aid
I am pleased to announce that my kin and I were blessed and strong enough to complete the Cleansing Ritual for the waters.

We are thankful for the kindness and generosity of the land-dwellers that helped us attain the necessary ingredients for the ritual.

The ritual took quite some effort to complete and we shall be resting for some time.

I wish everyone safer journeys in the future.

~

I do offer a small warning, despite searching as much of the seas as possible, we were unable to find the Shard that's caused the poisoning. To those that visit the rivers, lakes and seas, keep an eye out for it, we do not wish such a thing to occur again due to carelessness or fall into the wrong hands.

'Til next time,
Sea Nymph, Guardian of Seas
~Vini Normad'or~
~Hyul 87, Moon 7~