Kinung – After many moons since
Cheyn
's murder, the two people behind it,
Humma
and
Rargh
, were finally convicted. The trial by jury was held today in Kinung's Court of Justice and the jury of nine civilians found both defendants guilty and they were sentenced by presiding judge
Guldar
, in name of the Chongun path.
The trial held in the room called "
Court of Justice
", located inside Kinung Town Hall, was scheduled by Kinung Mayor
Spades
on Hyul 32, 11th Moon, 21st Sun, 9pm ((June 25th, 9pm EST)). Although he was responsible for schedule and justice warrant against the two criminals, Mayor Spades was not present in tribunal. Kinung called for the help of the Chongunate Elder, Guldar, to preside over the trial and represent an unbiased force of justice in the court as, Kinung councilor
Teikari
played part as the prosecutor of it. While taking place as the judge, Guldar asked
Minimoto
,
Senti
,
Snikot
,
Bisco
and
Vini
to help guard the trial.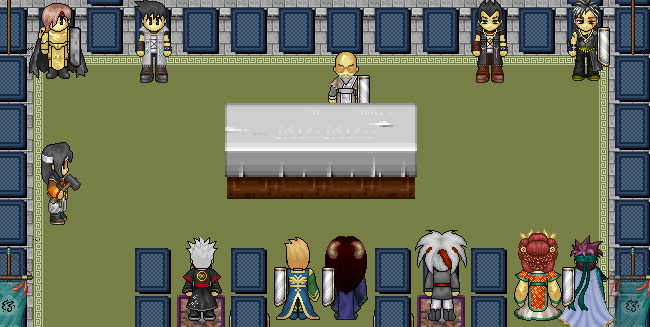 Kinung vs Humma & Rargh was judged by Chongun Elder Guldar and guarded by his Chonguns.
Humma, the elder of Shamans decided he would defend himself, but Rargh made an unexpected move. He invited
Mihi
, Cheyn's widow to defend him. She accepted it and strangely was defending the man accused of killing her husband. According to Mihi, Humma was the guilty person. The trial went on for hours. Humma and Rargh presented their defense witnesses, while Teikari presented the eye-witnesses of the crime.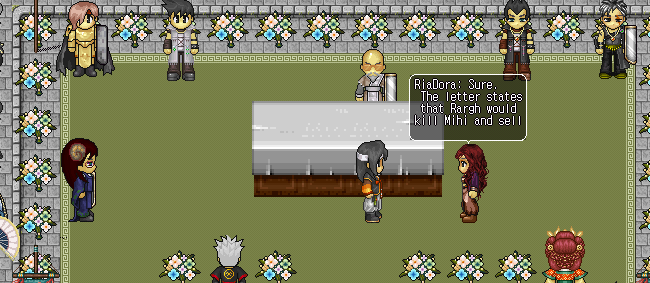 Councilor RiaDora is called by prosecution to speak on the case as eye-witness to the crime.
A jury composed by
nine people
watched the trial carefully as it was up to their decision whether the defendants would be condemned or not. The jurors were:
Akidoshi, ArtemisE, Cossette, Naamah, RebelMagic, Songa, TheSavior, Zalathiena and Zared
. After the case was presented by both defense and prosecution, the jurors entered a room called
Jury Room
. They voted first on Rargh's case, was a difficult decision, but they voted and majority found him guilty. Humma's verdict was easier to reach an agreement and they found him guilty as well.

Jurors receive instructions of how the trial by jury is held and their importance on reaching the veredict.
Back in the Court of Justice, the jury presented their verdict to the Judge and the defendants. As both were found guilty, Guldar presented the sentence chosen by the Chongun justice tribunal: both would be held in
Holding Cells
for 1 moon, banned from Kinung for 1 Hyul and branded as "
Dishonored the kingdoms
" for the crime of murdering the mayor of a town. Because of health issues, Rargh had to leave the trial prior to the trial ending and went to see a physician. He was informed of the verdict and sentence after the trial ended. Rumors say that the "health issue" he had was that he drank too much brew before the trial.

Humma was taken to the Holding Cells, located on northwest of the Court of Justice, inside Kinung Town Hall. While held behind the jail bars, Humma questioned who the jurors who voted against him were. Some of the shamans entered the cell area promising to help Humma while he was serving his sentence. Guldar entered and prepared to mark Humma with the red brand, but an unexpected guest appeared in front of the cell. It was
Mupa
.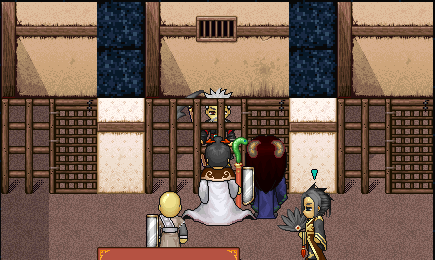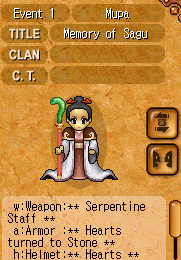 Mupa appears out of nowhere and makes a deal with Humma to get him out of jail.
Mupa questioned Humma what was he doing there and said he could be of use to her. She said she could get him free in exchange something when she needed it. She did not say what or when she would need his "assistance", but Humma, being held behind the bars decided to accept her offer without even knowing what she would need in exchange. After making a pact with Mupa, she then cast a huge spell into the room and broke him out of jail. She summoned him just outside of her dark trees forest, in Kugnae east gate,
south of Tree of Reflections
. Once there she reminded him she would come back to him when she needed his part of the bargain and then left. Humma was held by someone people near the tree, but with his weapon at hand, he managed to make way to escape. Mihi confronted both Mupa and Humma and got furious with what happened. For those who were thinking Mihi was Mupa, here's a confirmation they're not same person and actually act on opposite sides.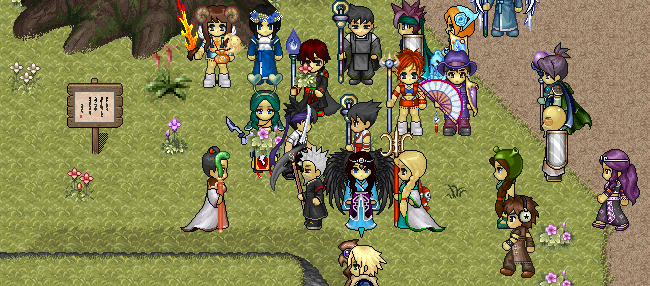 Mupa summons Humma outside of her Triiofa forest and asks for the Book of Stones.
After a while, Rargh was brought back from health care and placed into another Holding cell. He was branded for his crime and will stay there serving his sentence. There's no sight of Humma but the fact that he temporary escaped from holding cell, won't keep him from serving his whole sentence.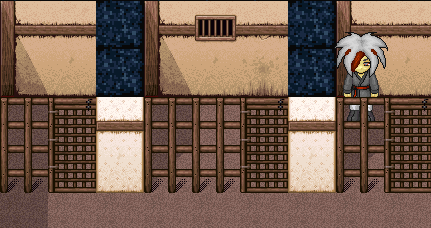 Rargh gets jailed after the trial and is branded for his crime against the kingdoms.
The reason why Mupa freed Humma is still unclear. "
She said she wants him to bring her the Stones Book
", says
Kuururu
, a rogue who watched her arrival near Tree of Reflections. Time will tell what the evil witch wants with the Shaman elder and what she plans on doing if she recovers the book of curses. Let's hope that the muses do not let them get such book stolen.
~Vini Normad'or~
~Hyul 32, Moon 11~