This is a complete list of the players who served Nexus as being a judge at some point and endured the most thankless position in the Kingdom of Winds. These people were responsible for the jailing of most of the criminals. The list dates from the creation of judge's position up to Nexus 6.84 but the names were only collected into a list under Head Judge Vini, therefore, some names might be missing. Feel free to send in names or information we do not have listed here.

---
What is a Judge?
A judge is a regular character selected to help take care of in-game justice. He upholds the Nexus's
laws
and warns other players to behave according to the rules of Nexus. In case a player does not listen to warnings or does severe crimes they may be arrested. Judges usually handle justice cases in two ways. If they witness the crime on their own they screenshot the evidence and send the criminal straight to jail. If the crime was witnessed by a civilian he/she shall screenshot the crime and post a report on justice board. Then wait until a judge contacts the person reporting (usually the victim) asking for the evidence. Once a judge obtains the evidence of the crime, the judge summons the defendant to court and issue the warning/jailing. Avoiding a trial will most likely result in jail, so if a character gets issued a summons by a judge, should accept it and present defense.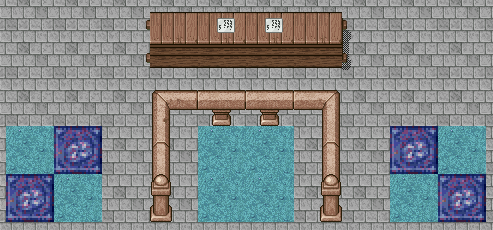 Peek inside Nexus court main room called "Final Judgment".
Who can handle justice matters?
Contrary to popular belief, Archons do not actively administer justice, judges do. Although archons have judge powers to jail if they witness a crime, it is a judge you should seek if you see a crime and it is the judges that handle reports of crimes in justice board. Two characters created by the company once handled justice. First was
Justicar
was a Nexon employee character created just to deal with justice. Second was
Iudicium
, who was a company character created to be used by players, a system similar to royals or archons. So if you need justice help, seek the judges.
What happens if a character is arrested?
If a player break a Nexus law and gets jailed he'll be sent to
Kugnae Donjon
. An arrest results in karma loss, a red mark stating the crime and resets the Wisdom clothes counter. It also gives Last Justice Matter handled by (judge name) mark. Most clans and subpaths do not take well when people have criminal red marks. Being jailed also reduces drastically the chance of being accepted for other in game positions. Names of jailed people are posted on
Scum
board.
How can one exit the jail?
If a character is locked inside Kugnae Donjon and cannot exit through the south door then it means he/she has been arrested by a judge or an archon. There's only one way to exit jail: Have a friend visit the NPC by Kugnae Jail (156, 157) and say "
Pay fine for my scum friend
". Then, click the rock inside the Donjon and repeat one by one the sentences it gives. Depending on how many jail terms a person has, more he/she will have to type. 1 term = 60-100 setences. The more severe crimes have more terms to handle. Any single mistake in typing out the sentences given by the rock will reset the counter of that term back to zero.

How can one get red mark removed
If a character has been arrested and would like to have their red mark removed, he/she must seek a "Pardon". There are 3 different types of pardon for different purposes. First and most basic Pardon type is offered by the Chongun subpath. It's a service offered by Chongun guides which allow "arrested for" red marks to be permanently removed, one by one. This means that if a character has 3 arrests for profanity, a pardon will reduce it to 2. A criminal can only apply for
Chongun pardon
after 2 Hyuls of the last crime. Consult a
Kwanhonsagje
scroll in any library for more information about Chongun's pardon.
The second type of pardon is called
Royal Pardon
. This is reserved only for people jailed for "Unspecified Serious Crimes". One can only apply for such pardon after 8 Hyuls. Consult the Guide board for more information or
click here
.
The 3rd type of pardon is called "Unsigned Royal Pardon" a really rare item (expensive) that removes the criminal marks. These items were random gifts during a past event and brought much controversy to the game. They are almost all extinct now.
Being pardoned does not remove the "Last Justice matter" marks, just the red marks of "arrest(s) for".

How do people become Judges?
The judges are selected by the Head Judge. It is the Head Judge's job to select new judges and train them until they are ready to take justice cases on their own. The Head judge usually looks for people who are: trustworthy, hardworking, active within community, respectable and knowledgeable. Also look for those that has not been jailed. The Archon of Justice does not select judges, but help check the background of those selected by the Head Judge.
Position Descriptions
Judge - A player selected from the community that has the duty to uphold justice within the kingdoms. The judges are responsible for handling cases from the justice board and the crimes they witness.

JIT - A judge in training. Some never make it to fully judge. Because it is not an official position and it gives no additional powers to the character who is in training, these people are not listed here.

Head Judge - The judge in charge of all the others. The leader of the group. This is the one who hires new judges and removes the inactive or bad ones.
Most of the names listed here are either gone or retired so it would be wise to check the Justice Board in the game for a list of current of judges or
click here
.
Head Judges
1st: Iudicium
2nd: Tip
3rd: Vini
4th: Teragg
Name - Position

Adarm - Judge
Angelina - Judge
Animerage - Judge
Baltzen - Judge
Bardocksu - Judge
Brazion - Judge
Castaspella - Judge
Clarrissa - Judge
Cnedra - Judge
ColbyCC - Judge
Coldsun - Judge
Dibzz - Judge
Endotime - Judge
Elainie - Judge
Eowgala - Judge
Ezekiel - Judge
Fangita - Judge
Geen - Judge
Gilley - Judge
Gilmore - Judge
Guerrund - Judge
Guldar - Judge
Hooje - Judge
IKwiSinI - Judge
Iudicium - Head Judge
Joselin - Judge
Kaili - Judge
Katia - Judge
Kateria - Judge
Klanx - Judge
Koyasoto - Judge
Ladytia - Judge
Launa - Judge
Living - Judge
Logorin - Assistant Head Judge
LoO - Judge
Macavelli - Judge
Maejima - Judge
Majestic - Judge
Maya - Judge
Minaku - Judge
Moonwater - Judge
Mrsrad - Judge
Muckish - Judge
Mukashi - Judge
Nairwyn - Judge
Narsisist - Judge
Navelee - Judge
NayRu - Judge
Numptie - Judge
Ogg - Judge
Paladino - Judge
Quartz - Judge
Quizibo - Judge
Radical - Judge
Ravenstar - Judge
Rowann - Judge
Saboth - Judge
Seltzer - Judge
Silentmage - Judge
SilentS - Judge
Sinroe - Judge
Sinsation - Judge
Skynraver - Judge
Snoop - Judge
Sojiro - Judge
Spiritmage - Judge
Sweetness - Judge
Teragg - Head Judge
tip - Head Judge
Tymay - Judge
Vini - Head Judge
Vitality - Judge
Warik - Judge
xJibbx - Judge
Yappy - Judge
Yoshiku - Judge

| | |
| --- | --- |
| | Arrest mark given to those who block doors or commit other minor crimes. |
| | Arrest mark given to those bypassed cursing filter and insisted on swearing in game. |
| | Arrest mark given to those who commit Board abuse crime. |
| | Arrest mark given to those who were caught stealing. |
| | Arrest mark given to those who were caught scamming others. |
| | Arrest mark given to those who have constantly harassed another player or an event. |
| | Arrest mark given to those who have casted debuff spells on another character or buff spells on a monster (such as healing) which could have resulted in the other person's death. |
| | Arrest mark given to those who have casted debuff spells on another character or buff spells on a monster (such as healing) which has resulted in the other person's death. |
| | Arrest mark given to those who have done severe crimes such as but not limited to: auto-hunting; auto-crafting; racism; drug refference; attempt to reveal immortal identity. |