Mini-map Update and Fragile Orbs

Posted by: Loxie

--

10:13 AM EST
The reset today brought two big changes. With the V726.0 patch the minimap has been updated to show portal information. When you pull up the map and hover over a purple dot it shows you what map each portal leads to and what NPCs are present in the map. This was requested by multiple people on the Rambling Thoughts and Dream boards. Thanks for listening, KRU!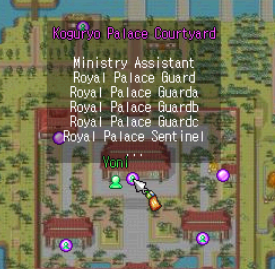 Two new orbs called the Fragile Orb of Inspire and Fragile Orb of Suppress were added. The Fragile Orb of Inspire is for poets level 60 and higher. For 1,000 gold and 6 ambers mana is preserved. This spell has 10 second aethers.
The Fragile Orb of Suppress is for mages level 70 and higher. It costs 1,000 gold and 7 ambers.
Also released was a quest for Do, Ranger, Shaman, and NPCs.
Remember the NPCs muttering about Wony not paying them enough? You can find Mogum outside Walsuk's Tavern and donate to feed them.
There is no mark for donating and it is unknown whether or not there is any purpose to do so other than a world shout and your name as being the top donator.
Update: Wony has said the top three donators will receive a mark.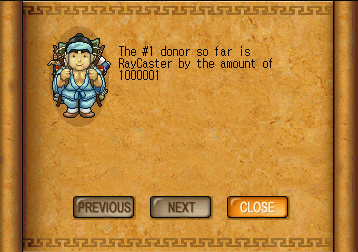 Here is a copy of the reset notes on DreamWeaver's board:
BOARD TITLE: Dream Weaver
FROM: mir DATE: 7/22
SUBJECT: Server & Client Patch - July 22th, 2016

- Portal information added to the Mini Map
- Experimental Fragile Orbs
Fragile Orb of Inspire (Poet L60+ Mana preserved with 10 sec aether, for 1000 gold & 6 ambers)
Fragile Orb of Suppress (Mage L70+ for 1000 gold & 7 ambers)
- Minor quests for Ranger, Do, Shaman and NPCs
---
Yudu Festival - Today!

Posted by: Loxie

--

8:35 AM EST

Today the Royal Ministry of Koguryo is hosting the Yudu festival. It is a smaller ministry festival, with only a handful of clans participating. The festival was planned by Mirfors, to be held in the palace's Victory Square. The schedule is tentative, as some other clans may be joining the festival. If so, this post will be updated.

Here is what he had to say about the festival:

The Yudu festival is a traditional celebration focusing on handwashing and the purging of demon spirits. If you find your luck has been waning as of late, the festival is just what you need! Come out; join us and celebrate!

All events will take place on July 22, 2016.


8 PM EST - "KRA Joust Tourney"
Koguryo Royal Army

9 PM EST - "Fish Toss"
Oceana

10 PM EST - "Final Hour Feast"
Bear and Muse


---
New bannings set Viper clan on lockdown

Posted by: Vini

--

7:33 AM EST
It seems another round of banning was done this friday morning and has indirectly caused the Viper clan to have a lockdown. This is because one of the three people listed by Head GM Wony as banned as today was the Viper Primogen, Luminary Lexus, one of Nexus top poets.
The other two banned were Emissary Obduracy, former Primogen of The Forsaken clan and former Top Rogue, and Guardian Voss who was also very high on Top Poets list, around 30th.
Check below the copy of Wony's post on Scum board:
BOARD TITLE: Scum
FROM: Wony DATE: 7/22
SUBJECT: Lexus, Obduracy, Voss

and all their alts permanently banned for cheating AND/OR character sharing.
It seems that from the Top 250 Poets of 6 months ago, the Top 3 have been banned and Top Rogue have been banned so far. From the beginning of the year Top Power list overall path, excluding Taiisrhaa who is event character, Nexus has seen the banning of #1, #4, #6, #7 and #12 in power back then. Keep in mind that there is a good number of people, amount the top who are legit hunters. Their positions will slowly be adjusted to the fair ones as the rounds of banning continue on higher levels of players down to the lower ones too.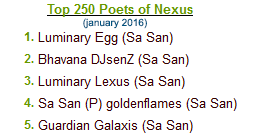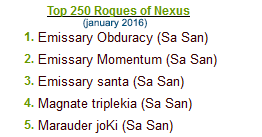 Also it's important to give attention to another ban which occurred couple weeks ago and went unreported by news amidst the anniversary news, mostly because Wony wrote a short but important message to all regarding such bans in that post. Here's a copy of it:
BOARD TITLE: Scum
FROM: Wony DATE: 7/3
SUBJECT: Aritzu

Banned, for char share/sold.

This is too obvious, but I have to state again. Please do not buy, or take over the chars that do not belong to you. It could jeopardize all your characters, and accounts. And of course, don't let anyone use your character.

I hate to be the mean guy, but I need to be extra harsh toward botting, duping, other hackings and char selling and sharing, in order to keep the community and the economy healthy, clean, and growing. We've all witnessed how damaging a few cheaters can be to the community we love all so much. That will not happen again.
Keep in mind that when reporting people through ticket support it's important to have the subject clear and the content with as most detailed information as you can possibly give, including screenshot(s) as evidence to your claims too. This helps KRU team find proof of what you're reporting.
Two important things to keep in mind regarding this are:
It's not because you suspect someone is cheating that they really are.

It's not because someone you reported weeks/months ago isn't banned that they're not watching, sometimes they might be just observing further to collect more evidences as proof of cheat.
KRU won't protect anyone if they find proof. Sometimes all is needed is time to see things moving in these matters.

~Vini Normad'or~
~Hyul 81, Moon 6~
Nangen Trial: The verdict

Posted by: Vini

--

11:55 PM EST
As scheduled the Trial of Nagnang v. Hobart began at 9pm EST in Nagnang Royal Court inside the palace. Dozens of curious people gathered around to watch the second trial held within those walls since the palace restoration.
The trial was conducted with Fayebelle as mediator of justice and Sieo, the minister of Nagnang acted as prosecutor. Hobart seems to have chosen to represent himself in the defense while King ChaeRi's participation on the trial was just as witness.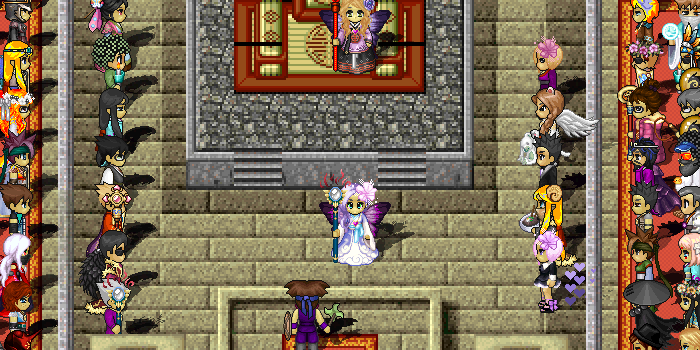 The jurors were formed by primogens and primarch of the seven clans of the kingdom. Present were: Davie, Phillies, Omoikiru, Haunt, Sawl, Blacktalon, Anrak, Belladonna, ShiKago, Ruse, vheissu and Lexus.
The main arguments used by prosecution were:


Hobart violated the Royal Decree proclaimed by ChaeRi on Hyul 77, Moon 12, 3rd Sun which stated the defendant was banned from entering Nagnang and if found of nangen soil would be arrested under grounds of disturbing the peace, conspiracy against the Nagnang Royal Family, and conspiracy to sabotage Nagnang property.


Prosecution focus a good amount of time in the negotiations when Hobart attempted in Hyul 35 with Wiyae (man responsible for murder of King Zhou and Queen Filia of Nagnang) to sell or trade information about the onyx he obtained and later giving it to Humma, known murderer of Kinung Mayor Cheyn.


Prosecution reminded people of the defendant's attempts to sell Nagnang lands when he was primogen of Covenant clan in Hyul 41 which back then was his first banning of taking any official position in Nagnang.
The main arguments used by defense were:


The negotiations with Wiyae were not considered an act of treason back then, otherwise he would not have been allowed to become primogen in a nangen clan after that day. He also blamed the effects of the Onyx on his mind.


The defendant took over as primogen of Covenant clan during a difficult period of transaction not long after army had been disbanded. According to him he was able to bring the clan on brink of disbanding to be an active clan and helped it survive up to these days.


The defendant cleared out that the "Trade bans" on the southern Koguryo route to Nagnang did not affect any crime rates, unlike it was claimed by the King and that he was present during the inspections to the southern gate done by King M'hul, General Amatus of KRA, his soldiers, the Koguryo Prime Minister and the Chongun Elder.
In the end, each of the sides spoke their final arguments and jurors had time to deliberate on their votes. One of the jurors asked what the point of that trial was if King ChaeRi had before decided alone on the same sentence they could if fault guilty.
During the course of the end of the trial this question was never fully addressed.
After then, the jurors announced they had reached a verdict:
8-4 found Hobart guilty of the charges of treason and abuse of restricted access
, he was sentenced to be exiled from the kingdom, and if he wants too much to prove his loyalty to Nagnang he should immediately begin making reparations to the kingdom. At the end of the trial, Hobart was escorted out by soldiers of Nagnang, but upon entering his clan hall to abandon it before moving to wilderness, Hobart fled.
It is unknown yet what will be the consequences of Hobart's attempt to escape, but Minister Sieo spoke of this could possibly change his status to "Enemy of State".
~Vini Normad'or~
~Hyul 81, Moon 6~
---
Trial by Jury: The Nagnang Kingdom v. Hobart

Posted by: Vini

--

2:31 PM EST
Couple weeks ago the political scenario of Nagnang had a commotion due to a discussion between King
ChaeRi
and
Hobart
which ended up becoming a Royal Trial against the alleged farmer in the kingdom.
It all started when Hobart made a public statement on Chronicles of the Winds stating he was moving from Koguryo back to "home" in Nagnang and rejoined Covenant Clan, where he was once primogen of. The Nagnang Royal was not happy to hear the news of Hobart's return and made a public statement saying Hobart was not welcome in Nagnang due to his past actions of trying to sell Nagnang lands when he was Primogen of Covenant and trying to negotiate a piece of Onyx with
Wiyae
, the man responsible for the death of both ChaeRi parents and also involved in the assassination of Prince
Kija
. While King ChaeRi seemed firm about his decision to not allow Hobart to live in Nagnang anymore, some people jumped to support their King while others supported the former primogen and his right to have a home in the kingdom. From there a series of posts were made public on the matter.
The situations escalated to a level that involved many different parties and in order to reach a fair decision, the Nagnang Ministry has convoked a Trial by Jury to decide the fate of Hobart in Nagnang. Such community Trial will be held tonight, 9pm EST at Nagnang Palace Courtroom. The list of jurors will not be disclosed until moments before the trial commences to ensure these people will not be approached by third parties and will remain impartial during the moments anticipating the trial until they begin hearing the facts.
Here is a copy of the public announcement of this trial made by Nagnang Minister Sieo on Chronicles of the Winds board: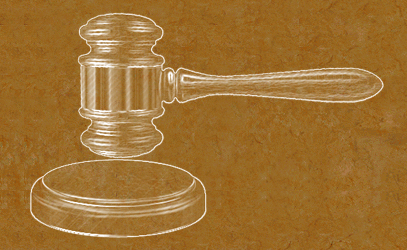 Nagnang vs. Hobart Trial


To the citizens of Nagnang and all other lands,

The government of Nagnang is hereby formally calling the one known as Hobart to trial. He may remain within the walls of Covenant Clan until the trial date of ((July 20th at 9 pm EST)) where he will be summoned to the Palace Courtroom.

In the interest of government transparency, it has been decided that the upcoming trial will be conducted openly for the public to witness. Disruptors will be removed or jailed.

Any individuals who wish to speak during the trial for Hobart should reach out to him to offer your support.

Any individuals who wish to speak during the trial for the prosecution should speak with Sieo.

Not all who contact us will be chosen/allowed to speak.

Specific charges will be enumerated at the trial.

-Sieo Bijeon
Sage of Nagnang
Nexus Atlas will cover the outcome of this trial as the verdict is decided by jurors. This is the second Royal trial held by Nagnang Government since ChaeRi became the monarch. The first one was trial against Hawkmori which did not end well.
~Vini Normad'or~
~Hyul 81, Moon 6~
Powered by Coranto
All portions of this website is copyright ©Nexus Atlas 2002-2016. Nexus Atlas, Nexus Network original content, layouts and logo are copyright Ben Moody 2002-2010. The current website layout was programmed by Nagnag. A large majority of this website's information is copyright Kru Inc. (www.kru.com) and ©Nexon Inc. (www.nexon.net). | The news presented on this main page not only contains factual information on the game Nexus: The Kingdom of the Winds by Kru Inc., but also the opinions of the person who is writing the news. Information from this website should only be used as reference and should not be the final word on any matter. Information on this website should not be used without the permission of Nexus Atlas administration.