Paralyze now working in houses

Posted by: Loxie

--

6:29 AM EST
Good news for all of you Sa san seekers, paralyze is now working in Malevolent Clan houses!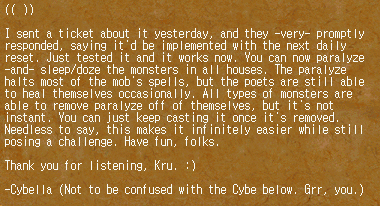 Nexus Version 7.04

Posted by: Vini

--

6:30 PM EST

Nexus had a server reset and a patch to client today. Below are the changes as reported by GM Stein at Dreamweavers board:

* Sa House fighters no longer heal themselves to full if they are attacked by a high damage attack and they can now be paralyzed

* Patching to add content for future updates

Minor updates for:
- Bear clan
- Silla clan
- Kurimja clan
- Bear clan
- Shaman subpath
- Barbarian subpath
- Ranger subpath
- Tiger clan
- Monk subpath
- Ranger subpath
- Pegasus clan

*** If you are running Windows Vista/7, make sure to run NexusTK as administrator (by right clicking the shortcut and selecting the option) for this patch ***
Powered by Coranto
All portions of this website is copyright ŠNexus Atlas 2002-2010. Nexus Atlas, Nexus Network original content, layouts, logo and other creative works are copyright Ben Moody 2002-2010. The current website layout was programmed by Nagnag. A large majority of this website's information is copyright ŠNexon Inc. (www.nexon.net) and Kru Inc. (www.kru.com). The news presented on this main page not only contains factual information on the game Nexus: The Kingdom of the Winds by Nexon Inc, but also the opinions of the person who is writing the news. Information from this website should only be used as reference and should not be the final word on any matter. Information on this website should not be used without the permission of Nexus Atlas.