| | |
| --- | --- |
| Tuesday, October 21, 2014 | |
Subpath Fair - again

Posted by: Loxie

--

6:52 PM EST

Sorry guys, I feel bad posting about my own stuff (but who else is going to do it?) Here is the current schedule and prizes for the subpath fair contests. (Not for each individual path's events)

The subpaths are working together to host a subpath fair on October 24th, 25th, and 26th. During each of these evenings a series of classes and events will be held, culminating in a trick or treat treasure hunt and a costume contest. Costumes may be out of your imagination or historical figures, but be sure to be respectful and realistic in your representations. Doing otherwise will result in your removal.

If you have any questions prior to the opening of the fairgrounds or you'd like to host an event for your subpath, let your Elder, Guide, or me know and we'll update the schedule.

Costume Contest
First Place: Free Extended Title (must be RP appropriate)
2 million gold
Ba Gua reading
Random Kruna Package

Second Place: Free Extended Title (must be RP appropriate)
One Free Engrave
1,010,000 gold
Qi Shard

Treasure Hunt
First Place: Check for 100k
One Free Engrave
2 million gold
Ba Gua reading
Random Kruna Package

Second Place: 1,010,000 gold
Qi Shard

Path Booth decorating contest
First Place: 2,250,000 gold
Non-bonded flower bouquet
Ba Gua reading
Random kruna package

Second Place: 1,010,000 gold
Qi Shard

Friday, October 24, 2014
7pm EST - Opening Introductions/Ceremony
Diviner - Ritual of Divination
Diviner will be opening the festival with a
ritual of Divination on the upcoming year.

8pm EST -
Introduction to Monk - Monk
A basic course on the core concepts and ideas and beliefs of the Monk path.
Augur's Token - Diviner
Story contest

9pm EST -
Introduction to the Chongunate - Chongun
This will be an information, Q&A, and general crash course into the world of the Chongunate.

10pm EST -
Introduction to Do - Do
An introduction to the Do subpath which will go
over the following topics: History, Title
Explanations, Codes of Conduct, and Core Beliefs

11pm EST -
Introduction to Shamanism - Shaman
A lesson on the principles of Shamanism and what is a Shaman?
Fidchell - Druid
A chess like strategy game played by two opponents

12am EST -
[First Day Closing Ceremony]
[Description]

Saturday, October 25th, 2014

4pm EST -
[Second Day Opening Ceremony] [Path]
[Description]

5pm EST - Merchants - What are they all about?
Identifying the different types of merchants, and their characteristics and beliefs.

6pm EST -
The Art of Muse - Muse
The basics of what a Muse is, what it means to
be a Muse and all that good stuff.
Bridge of Flowers - Druid
Be the last one standing on a flower

7pm EST -
Introduction to Geomancy - Geomancers
A basic class, introducing the core beliefs, traditions and values of the Geomancer family.

8pm EST -
Analysis of Buddhism - Monk
A course describing the history of Buddhism and the many ways it has been shaped by culture over time.
Fortune Revealed - Diviner
Diviners perform divination readings.

9pm EST -
[Special Presentation by the KWG] [Spy]
[TBA]

10pm EST -
[Class Name] [Path]
[Description]
Weapon Dance - Do
Participants dance around a series of weapons. Stand on the correct weapon before anyone else does or you're out!

11pm EST -
History & Lore - Shaman
A lesson on the Original Eight and Shaman lore

12am EST -
[Second Day Closing Ceremony]
[Description]

Sunday, October 26th, 2014

5pm EST -
Do Performance - Do
Do will do a demostration of a Weapon form

6pm EST -
The Art of Muse - Muse
The basics of what a Muse is, what it means to
be a Muse and all that good stuff.
Jan Ken Pon - Mon
The classic Monk game of rock paper scissors!

7pm EST -
To Be a Monk - Monk
What does it mean to be a Monk? How do you become a Monk? A short lesson on core concepts will be followed by Q&A. Ask about our ideas, beliefs, and ways!
As Grouchy As - Diviner
Get those complaints out! Each contestant has five minutes to complain about the topic of their choice.

8pm EST -
Do Core Beliefs & Message to Seekers - Do
Explanations of foundation concepts to a Do and Advice to seekers and those interested in the path.
Musical Deer - Druid
Last person with a horse wins

9pm EST -
Divination Methods - Diviner
A lesson on various divination methods and how to create/perform one

10pm EST -
Closing Ceremony - Diviner
Prizes will be distributed for the contests
| | | |
| --- | --- | --- |
| | | Resignation |

Effective immediately, I resign from anything to do with NexusAtlas, NexusForums.

I wish everyone good luck.

--LordAchoo
Server Reset October 17th

Posted by: Loxie

--

9:06 PM EST

Minor updates for:
- Do subpath
- Chongun subpath
- SunMoon clan
- Tiger clan
- Bear clan
| | |
| --- | --- |
| Thursday, October 16, 2014 | |
Kugnae west gate is under attack

Posted by: Vini

--

9:39 PM EST
After an anonymous threat was delivered to
General SonKnuck
of Koguryo Royal Army, he and his men began patrolling Kugnae gates tonight accompanied by
King Mhul
himself.
By the time they were crossing southwest of Kugnae, between south gate and west gate, screams of despair began to echo through the kingdoms as a group of grizzly bears escaped from the Ancient Training Grounds and began to attack people at west gate.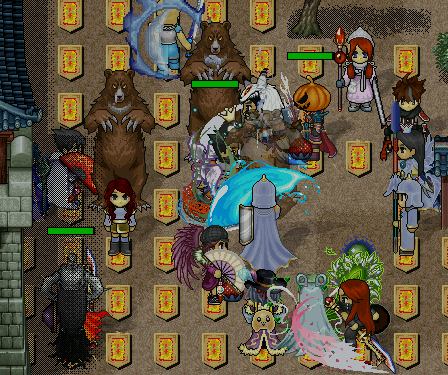 With the help of citizens, KRA soldiers were able to contain the grizzly bears and lock them back to the Ancient Training Grounds. Soldiers are now investigating what might be the cause of the Training Grounds portals to have failed and who was behind it, as this was surely no accident. The source of the threat must be the main lead to figure out what happened today which caused the death of many people.
~Vini Normad'or~
~Hyul 67, Moon 5~
Powered by Coranto
All portions of this website is copyright ©Nexus Atlas 2002-2010. Nexus Atlas, Nexus Network original content, layouts, logo and other creative works are copyright Ben Moody 2002-2010. The current website layout was programmed by Nagnag. A large majority of this website's information is copyright ©Nexon Inc. (www.nexon.net) and Kru Inc. (www.kru.com). The news presented on this main page not only contains factual information on the game Nexus: The Kingdom of the Winds by Nexon Inc, but also the opinions of the person who is writing the news. Information from this website should only be used as reference and should not be the final word on any matter. Information on this website should not be used without the permission of Nexus Atlas.