| | | |
| --- | --- | --- |
| | | New Patch causes trouble for some |
Mir has Updated Nexus again with a new patch!

- Snore sound on/off added
- All stat. real time update in status tab
- Bug fix for notification of item condition/durability upon death
- Bug fix for exp. loss notification upon death
- Minor updates for Sun Moon Clan and Oceana Clan

Warning! A lot of users are reporting this message with the patch

Unfortunately you'll have to re-download NexusTK.
NexusTK Download Link
Before you uninstall Please Copy your Map,
User and Screenshot folder to your desktop
or another location so it won't be deleted.
After re-installing NexusTK Put the folders back into
your NexusTK directory.
If you're running windows 8 or 10 Please install it to
My documents.
Also if you're running Windows 8 or 10 don't forget to
change the compatibility settings.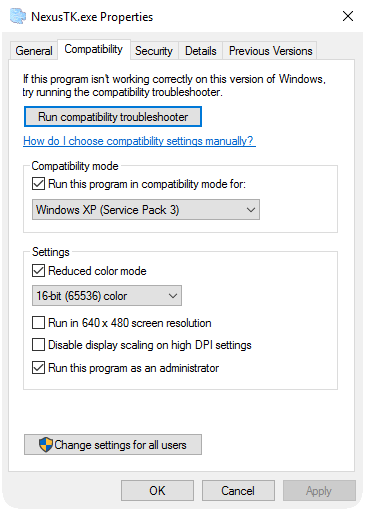 these settings Fix the mouse lag bug and administrator bug.
Meeting mir

Posted by: Loxie

--

10:36 PM EST
Yesterday really late at night, while adventuring with the Koguryo Ministry, General Amatus came upon a sleeping
mir
at the Kugnae palace's throne room on top of the treasury. When the ministry joined Amatus to greet the sleeping GM, Paranoid noticed mir's group was 'ON' and thought it would be a good idea to try to group him. Incredibly enough, mir remained grouped and was kind enough to speak with us regarding their plans for the future of TK. While vague, he seemed very hopeful. Someone get them a keiku!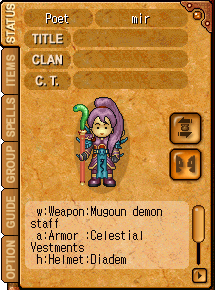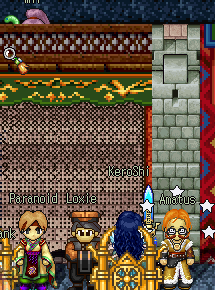 During the course of the conversation mir did not reveal anything that they'll be working on, but he has expressed that Dream Weavers are especially concerned about path balance. Two other ideas that stood out amount many questions being done to him were:
A way to make spell casting targeting to work by clicking in the names of people in group to take loads of stress from casters. Mir "agreed", but without saying if this is a change they'll pursue.

Updates to game interface like quest log and adding mini-map of the room person is at. Mir confirmed that she is planning on that one "Yeah, I'm planning about map system. I think one of the important part".

Upon hearing about mir being grouped and lively talking to people others also joined the group to get their first chance to speak with the new GM. He remained awake talking to people until about 2 A.M PST, few hours later he was already awake doing yesterday's morning reset. An important part of the conversation was when mir confirmed that he will be working just for Nexus TK.

A Morning reset with evening notes

Posted by: Vini

--

9:25 PM EST
Earlier morning today the servers of Nexus have been reset to implement some fixes, but just now GM Mir has released the upgrade notes to the Kingdoms of Winds. In the list of updates there's also the long waited fix for the Users lists, which have been broken since move of servers. Here is a copy his post on Dream Weaver board:

- User List, Clan/Subpath Update Bug: This was caused by the server move, which is actually still going on, and will be completed before coming Sunday. User List should be working now, and the Clan/Subpath update will be working when the move is complete. We apologize for this.

- Sage wait time announcement bug (for the people who had less than 45 days of wait time when the change was implement): The fix was already planted and will be implemented with the next server reset.

- Incineration spells bug: Fix is planted and will be implemented with the next server reset.

Thank you.
The Nexus: TK Server Information which we have here in Nexus Atlas is also working properly again, if you check it now you'll see the server reset happened 15 hours ago.
~Vini Normad'or~
~Hyul 79, Moon 6~
| | |
| --- | --- |
| Wednesday, April 20, 2016 | |
A new Nexus Judge

Posted by: Vini

--

11:46 PM EST
Moments ago Head Judge Teragg has announced through the winds that
Spiri
has concluded his judge training after 2 months of of preparation, observation, studying and coaching.
Congratulations Judge Spiri, may your service to community be a path of fairness and hope.
~Vini Normad'or~
~Hyul 79, Moon 6~
Powered by Coranto
All portions of this website is copyright ŠNexus Atlas 2002-2016. Nexus Atlas, Nexus Network original content, layouts and logo are copyright Ben Moody 2002-2010. The current website layout was programmed by Nagnag. A large majority of this website's information is copyright Kru Inc. (www.kru.com) and ŠNexon Inc. (www.nexon.net). | The news presented on this main page not only contains factual information on the game Nexus: The Kingdom of the Winds by Kru Inc., but also the opinions of the person who is writing the news. Information from this website should only be used as reference and should not be the final word on any matter. Information on this website should not be used without the permission of Nexus Atlas administration.