Welcome to Nexus Atlas!
The Internet's #1 Source for all Things Nexus!

Headlines
TK Roleplay Initiative -- Loxie -- 10:27 PM, June 25
Thank you for your service Tyrra, New Bear clan Primogen. -- LinuxKiddy -- 7:17 PM, June 25
The ban season begins! -- Vini -- 7:12 PM, June 24
Dano Festival Results! -- Loxie -- 8:35 PM, June 21
NEW Kruna Update & Father's Day Special! -- IcePixy -- 9:07 PM, June 20
Dano Festival - Today! -- Loxie -- 11:35 AM, June 20
Wony's Apology & Warning -- Ferro -- 11:30 AM, June 20
Client Patch to Nexus V7.23 -- Vini -- 10:36 AM, June 20
New General of Buya Army -- Vini -- 3:41 PM, June 19

TK Roleplay Initiative

Posted by: Loxie

--

10:27 PM EST
A group of players decided to get involved in the community in an effort to ease boredom, increase spontaneous roleplay, and encourage interacting one-on-one with other players. Here is their statement.
TK Roleplay Initiative


Our goal is to increase community involvement by creating spontaneous, interactive, and fun roleplay events.

We encourage all members of the community, regardless of path or prior role play experience, to join in this exciting new endeavor! With your help we will have the tools to make all of our game play experiences substantially more enjoyable AND inspire new players to become contributing members of our community.

All we ask from you is a little time and creativity!

Along with these impromptu interactions, we will begin hosting weekly RP events following our next meeting. We would love for you to be part of the planning process but you are also welcome to jump in at any point and participate.

For the time being our roleplay activities will take place within Tangun so that all players have access. But, being founded on ideas of flourishing growth, we are looking forward to expanding and watching a web of intertwined stories build across the kingdoms.

Please join us as we dive into this adventure!


Study Spot, Tangun
Saturday July 9th at 6:00 PM EST
---
| | | |
| --- | --- | --- |
| | | Thank you for your service Tyrra, New Bear clan Primogen. |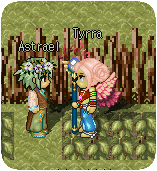 Today, Hyul 80, 11th moon. Primogen Tyrra has handed her long held staff
over to Do Astrael. We thought tyrra would always stay Bear's Primogen
but She has decided it was time. With the passing of the staff, Aastrael
has some words to say "Our reverent thanks go to Tyrra, whose unrelenting hard work
and earnest compassion have brought the Bear Clan together as a family stronger
than ever. Our humble cave is a wonderful place to be able to call home in these
Kingdoms, and I intend and aspire to oversee our family with the care and
wisdom they deserve - with honor, loyalty, and strength in unity!"

We hope good fortunes for Bear Clan in their path forward.
The ban season begins!

Posted by: Vini

--

7:12 PM EST
It looks like The Head of KRU has began doing as he promised:
banning botters and dupers forever
.
As posted on Scum board, the first one to have a permanent ban was Flake & All alts for knowingly and actively assisting illegal asset laundering.
BOARD TITLE: Scum
FROM: Wony DATE: 6/24
SUBJECT: Flake & All Alts - Laundering

Banned, for knowingly and actively assisting illegal asset laundering.
Head GM Wony has also posted on Dreams board clearing up the terms he used on the scum board; a glossary explaining further the post about the ban.
BOARD TITLE: Dreams
FROM: Wony DATE: 6/24
SUBJECT: Scum Glossary

Flake = char name of a 'mule', 'helper'
All Alts = all chars across all accounts, including much higher chars
Assisting = helping someone
Knowingly = knew who that someone was
Actively = voluntarily, willingly
Illegal = duped, botted + any other ill doings
Asset = money and items
Laundering = hiding, moving, reconstructing
If an omelet wasn't done today, at least his message was clear that more bans are to come soon.
Thank you KRU Inc. for starting to keep Nexus TK clean again!
Update: Wony bans 50+ characters!
BOARD TITLE: Scum
FROM: Wony DATE: 6/25
SUBJECT: TwisterZ + & All Alts

Banned, for multiple and repeated violation, char sharing, hacking attempt. 50+ chars, including Shinobi, Djsenz..
~Vini Normad'or~
~Hyul 80, Moon 11~
Dano Festival Results!

Posted by: Loxie

--

8:35 PM EST
Vini says I have one more story to write before I can go home. He tells me the Dano festival was a huge success, with lots of the community, all the Koguryo clans, the army and with ministry organizations, and even the Royal Family arriving!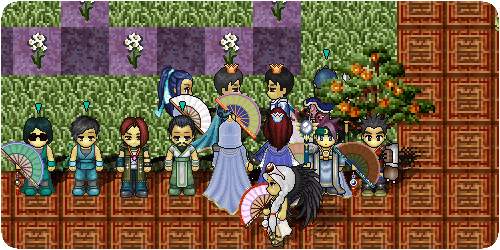 It seems there was an attempted attack on the Princes and Queen Yun. All three survived, but retired for the evening. The festivities continued with King Mhul arriving later that night.
The ministry appreciates all the people who came to support Koguryo during the festival, and we hope you enjoy your new fans!
| | | |
| --- | --- | --- |
| | | NEW Kruna Update & Father's Day Special! |
Recently, CoverGirl made not one but TWO posts and released tons of new items! Some items were especially released for all those Special Nexus Fathers.. can you guess what they were?
Enjoy finding out!!
BOARD TITLE: Item Shop Announcements
FROM: CoverGirl DATE: 6/16
SUBJECT: June update

Hello Kingdom~

Last update.
The veils were missing for Jinny specialty sets. Sorry about that. Now you can complete your beautiful Jinny outfits with these veils.

New update.
I put some animal like dragon dogs, takos and monkeys. At first I didn't like them because they look a little bit scary and also some of them were trying to hold my arms (too tightly) and hung on my back while I was working, but as we spent more time together in my office I realized they are very friendly. You will love them too. They will follow you everywhere you go.

Coming update.
Summer is already here but currently beach sandals and slippers are out of stock. I will put those items ASAP, hoping before your vacation.

Thank you.

** CoverGirl

Available in Golden, UltraViolet, Nutmeg, Hyacinth, Raspberry & Hunter

Available in Black Only

Available in Gold, Coconut, Light, Night, Lagoon & Cherry

Available in Raheem, Bamboo, Sodalite, Garnet, Ivy & Twilight

**New Color Mount**

Available in Black, White, Electric, Sparks, Searing & Ember



Available in Black, White, Blue, Red, Green & Yellow

Available in Indigo, Orange, Hyacinth, Black, Silver Gray & Terra Cotta

Available in Black & Brown

Available in Pthalo, Blonde, Violet, White, Slate & Cranberry

Available in Pthalo, Blonde, Black, White, Sandy & Red

Available in Blue, Gold, Green, White, Orange & Brown

Available in Nimble, Assassin, Agile, Stealthy, Dark & Quick

Available in Silver, Yellow, Taupe, Azure, Ruby & Teal
Soon after all these were added, Father's Day rolled around and CoverGirl surprised us with this following post:
BOARD TITLE: Item Shop Announcements
FROM: CoverGirl DATE: 6/19
SUBJECT: Happy Father's Day!



Happy Father's Day to all the fathers, grandfathers, and father figures!!

All of us in the Kingdom, would like to say Thank You
with all the beards :)

Enjoy~

** CoverGirl
With this post came... You guessed it, BEARDS! From Van Dykes to Full Beards and Chest Warmers!
"Hey I like your beard." -Nexus Fan
| | |
| --- | --- |
| Available in Dark Brown, Blonde, Scarlet, Teal, Black & Silver | Available in Walnut, Blonde, Scarlet, Aqua, Black Chest Warmer & Grey Chest Warmer |
Nexus wishes all father's a Happy Father's Day
---
Dano Festival - Today!

Posted by: Loxie

--

11:35 AM EST
Help! Vini is holding me hostage until I announce Koguryo's Dano festival! Tonight,
June 20th from 8pm-11pm EST
the Kogurian clans will be hosting events for the community to enjoy.
Be sure to stop by and get your special Dano gift!
8pm EST - Kissing Contest


Enigma and

Destiny


9pm EST - Rock, Paper & Scissors


Tiger and

Bear


10pm EST - Dancing with the Stars


SunMoon and

Destiny


11pm EST - BattleShip


KRA and

Oceana


---
Wony's Apology & Warning

Posted by: Ferro

--

11:30 AM EST
Earlier this morning, Head GM Wony posted on Dream Weaver's board an apology to honest players & a warning about botters and cheaters. Here is a copy of his post:
BOARD TITLE: Dream Weaver
FROM: Wony DATE: 6/20
SUBJECT: Please do not interact with botters and dupers

I sincerely apologize for letting some of the banned botters and dupers back to Nexus. Someone in our company did this during my absence while I was pursuing my personal projects. That person is no longer with us. Nonetheless, I take the full responsibility.

Now feeling the heat, the cheaters are trying to relocate or launder their money and items, or offer their final fake generosity to other people while they can. Please do not accept or interact with them. Our aim is removing the core cancer cells, not the healthy but affected cells. I beg you not to catch our attention regarding this, or worse, catch any stray bullets when we clean up the streets. Let the filth vanish, and let's restore the wonderful community we so fondly remember and miss, together.

Thank you.

Wony

An important thing to keep in mind is that this warning to not interact with botters and dupers is no excuse for people to start pointing fingers and harass others. If you suspect someone is involved in such illegal activities (botting and duping) this what you should do:
Submit a ticket to Kru Support with information and evidences to explain why you think/know someone has done it.


If someone makes a too generous offer of donating money and items which you seem to suspect, either refuse the offer or if you have accepted already, perhaps a good idea would be to submit a ticket to Kru saying what did you receive and from who. They'll be able to check if was a legit item or not.

-- Ferro


---
Client Patch to Nexus V7.23

Posted by: Vini

--

10:36 AM EST
About 4 hours ago, when most people were still asleep, GM Mir had a new reset to the servers to introduce a client patch to Nexus version 7.23.
BOARD TITLE: Dream Weaver
FROM: mir DATE: 6/20
SUBJECT: Server & client Patch - June 20th, 2016

- 'Neighborhood' tab displays the players in the current server in Heroes List

- Fragile orb life extended to 3 days, real time

- Mage specific self heal fragile orb added

- Now you can hold all your class specific fragile orbs, one each.
Basically this is how Heroes list works now. It's a mix of the old system we've been used for years and the new one.
On Koguryo, Buya, Nagnang and Neutral tab it will show everyone who is online despite of which server they are in. But then, how will people know who is in the same server as them, in case they need to summon someone, or know how many people would listen to their sage? Simple! GM Mir added a new tab on heroes list called '
Neighborhood
' which shows everyone, despite of nationality who is in the same server as you.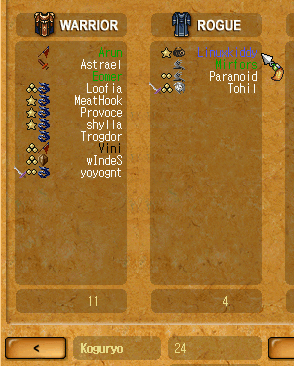 So, as an example on image above, LinuxKiddy lives in Koguryo like me so he was showing up in the general listing, but he was in Buya server and I was in Koguryo's, therefore he wasn't showing up in my list.
While if you notice on Rogue's list still, Phiirosan is not kogurian, he's buyan in fact, but he was at Koguryo server at the time of the screenshot, therefore showed up at the same neighborhood tab as me, despite of being from a different nationality.
Such change to heroes list is the perfect mix of both old and new system which shall be very helpful to hunts, events, meetings and more.
~Vini Normad'or~
~Hyul 80 Moon 10~
New General of Buya Army

Posted by: Vini

--

3:41 PM EST
Yesterday, after 6 Hyuls ahead of the buyan army,
Teto
has stepped down from his position and appointed
PiFF
to be the new General of BIA.
PiFF has been a soldier of Buya for many years and served most of this time as an officer, being Field Commander his latest and longest position in the army.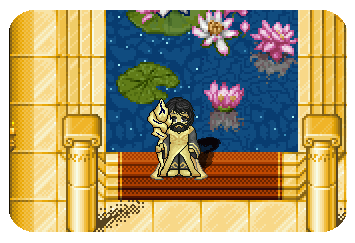 "I hope to bring wonderful possibilities back to the Buya Army, beginning with enlistment and readmittance", said the General.
Nexus Atlas congratulates General PiFF on his new position and wishes good luck on his new duties. Also a special thanks to Teto for his services to Buya and Nexus community overall.
~Vini Normad'or~
~Hyul 80, Moon 10~
Powered by Coranto
All portions of this website is copyright ŠNexus Atlas 2002-2016. Nexus Atlas, Nexus Network original content, layouts and logo are copyright Ben Moody 2002-2010. The current website layout was programmed by Nagnag. A large majority of this website's information is copyright Kru Inc. (www.kru.com) and ŠNexon Inc. (www.nexon.net). | The news presented on this main page not only contains factual information on the game Nexus: The Kingdom of the Winds by Kru Inc., but also the opinions of the person who is writing the news. Information from this website should only be used as reference and should not be the final word on any matter. Information on this website should not be used without the permission of Nexus Atlas administration.