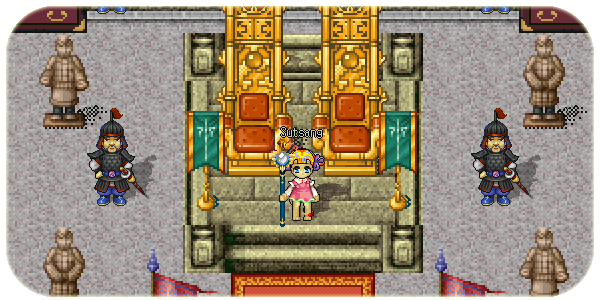 There seems to be having a lot of controversy going on about the origin of Princess
Sutsang
of Nagnang and her legitimacy as nangen royal. Citizens of Nagnang kingdom have been posting their concerns about the origins of the Princess on the Chronicles of the Winds.
The discussion reemerged recently during the extended absence of King
ChaeRi
, in which Princess Sutsang started hosting the biweekly Nagnang clan tribunals. While ChaeRi is known to be her father, the identity of her mother was never revealed.
Since her father ChaeRi refuses to reveal who her mother is or was, a lot speculation has been populating people's minds and generating much space for rumors. The main ones circulating are that Sutsang seems to be daughter of
Loxie
, the Minister of Koguryo with whom ChaeRi supposedly had an affair while still Prince of Nagnang. Another strong suspicious is that she can be daughter of
Malady
, the sister of Blight who seems to be lurking in the shadows of the kingdom and who people claim to have been secretly in contact with some of The Forsaken Clan members.
Last but not least, one of the most believed rumors is that Sutsang may actually be daughter of Providence, the mysterious deity who introduced her to the community. This is corroborated by the fact that Sutsang arrived already as toddler and was not seen as a baby, just like community saw Princes
Daeso
,
MingJung
and
Mobon
. While then, Koguryo throne twin-heirs have clear and estabilished birth origins as sons of King
M'hul
and Queen
Yun
, Prince Daeso of Buya also has a clear origin as son of Queen
Lasahn
and late King
Geumwa
, who's poisoning death was never solved.
The lack of clear origins on the Princess Sutsang's story is making Nagnang political scenario once again unstable and recently the Primogen of Forsaken clan has announced jointly with Viper's Primogen that they'll not be subservient to Princess Sutsang and even accused her and perhaps even ChaeRi of being part of a fraudulent bloodline. Although King ChaeRi is back from his foreign diplomatic affairs, he arrives back home finding that the followers of Blight demanding answers.
~Vini Normad'or~
~Hyul 87, Moon 8~