| | | |
| --- | --- | --- |
| | | Whirlwind Orb Returns With Newest Reset! |
This morning yet another storm hit our kingdoms, this time bringing back the one,
the only, the amazing Orb of WhirlWind Ripple!
While it isn't known whether it remains the same as previous, the warriors finally
have an orb of their own to play with again.
*WARNING*
ORB ONLY LASTS 24 HOURS
Cost for sa san's: 75 malgal insignias and 500k
More details to come as testing is done.
A small update to Bird 3 experiance on Gogoon Island was also implemented.
Many EE san hopefuls have been stuck fighting the monstrous, yet beautiful flowers
on the island for years, will this make it comparable to Flower 3 at long last?
The post may be seen below:
BOARD TITLE: Dream Weaver
FROM: NexusTK DATE: 5/26
SUBJECT: Server reset - May 26th, 2017


- Bird 3 mobs adjusted for better Exp.

- Fragile orb of Whirlwind Ripple returns.




*;'IcePixy';*
88th Hyul, 3rd Moon, 25th Sun
| | | |
| --- | --- | --- |
| | | Server Reset Early This Morn'! |
This morning, as chaos rose around us, we learned through the Dream Weaver
of a few changes in our lands. One exciting change being an adjustment to the
previous experience distribution!
Take a peek at NexusTK's post below for details:
BOARD TITLE: Dream Weaver
FROM: NexusTK DATE: 5/18
SUBJECT: Server reset - May 19th, 2017


- Exp. distribution adjusted. Please note this adjustment is TEMPORARY, and may change along with other changes.

- EE crafting mastery coupon removed.

- Minor adjustments and bug fixes.


*;'IcePixy';*
~Hyul 88, 1st Moon~
| | | |
| --- | --- | --- |
| | | Happy Mother's Day Kruna Released! |
CoverGirl has surprised us all with a brand new weapon skin,
specifically for all us Mama's out there!
Take a peek below to see what she has to say.
BOARD TITLE: Item Shop Announcements
FROM: CoverGirl DATE: 5/13
SUBJECT: Happy Mother's Day!


Happy Mother's Day!!

All the
Beautiful, colorful
Flowers
for YOU,
mothers, grandmothers, aunts,
and mother figures!

All of us
in the Kingdom
would like to say
THANK YOU!!


** CoverGirl


Make sure to get one of these gorgeous bouquets for a wonderful
mother you may know, especially if it's yourself!
Weapons
: (pass the cursor over the image to see Item Details)
*;'IcePixy';*
~Hyul 87, 12th Moon~
An Ode to the One who mastered all 4 Paths

Posted by: Vini

--

3:25 PM EST
Once you reach level 5 you have you choose your path. So far, only one could claim them all.
She is the warrior who faces all challenges with bravery to defend her offspring.

She is the rogue who is able to disarm traps, pick locks and unmask on foes who threaten her heirs.

She is the mage capable of mysterious feats that no science could explain to benefit her lineage.

She is the poet who has the natural ability to heal all your wounds with the power of love.
Her codename is mom, and this is her day!
Happy mother's day to all women who mastered the 4 paths and are the natural guardians of their children.
---
Beltane Festival Ends

Posted by: Vini

--

12:50 AM EST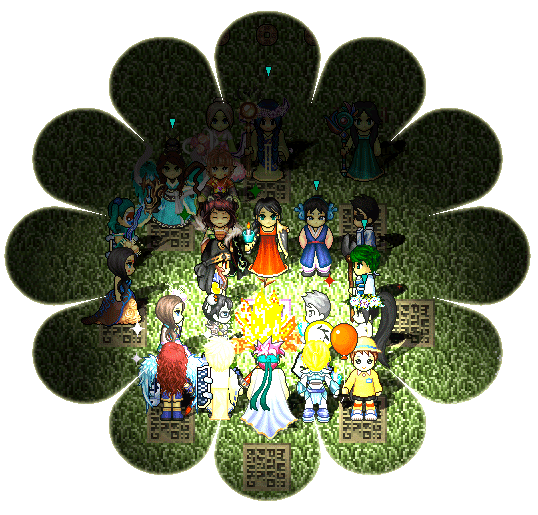 The Druid's Beltane Festival ended today. The festivities that mark halfway between the spring equinox and the summer solstice. During then, rituals were performed to protect the cattle, crops and people, and to encourage growth and fertility.
The closing rite was performed late evening by Druid Elder Foxfire. As she built a bonfire on the center of the Mystic Garden, various flower types began blooming around of the garden. The elder asked the help of Druid Chamber, Tyrra and all other people present to assist with the tradition of gathering flowers and laying on the festival altar next to the ceremonial fire. After that Druids asked people to join them in a silent walk of reflection around the garden to appreciate the coming light and making it through the cold days of winter.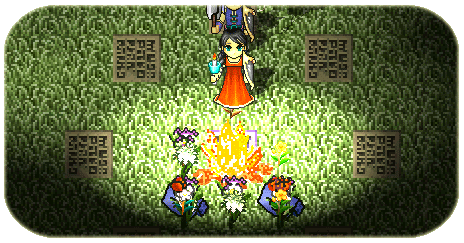 The elder concluded the ritual asking everyone to gather around the fire and thanked the greatest mother of all: "
Thank you for reflecting with me on our walk. We hope that Mother Nature will bless us all at this time of year
", said Foxfire. "
Thank you for celebrating Beltane Festival with us. And we look forward to seeing you at Lughnasadh Festival. Blessed be and safe journeys
", she concluded.
For those who participated in any of the events hosted during Beltane's Festival yesterday, Foxfire instructs them to contact her in order to get the legend mark recognition.
~Vini Normad'or~
~Hyul 87, Moon 12~
The Winners of the Relay Race

Posted by: Vini

--

8:45 PM EST
The first international relay race was held today hosted as a collaboration event between the ministries of the Tri-kingdoms. It counted with the presence of Queen Lasahn of Buya who went to watch and show support to all racers gathering at north gate Buya and counted also with the presence of the young Sutsang, Princess of Nagnang who insisted on participating of the relay race as part of Nagnang team.
Instead of a baton, the items exchanged between the races in each of the checkpoints were engraved tokens with the name of the capital of each team.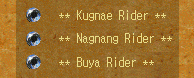 The checkpoints as previously mentioned were northwest wilderness, north Kugnae, entrance of southern Koguryo and Nagnang's northwest entrance. The starting line of the race was Buya's north gate and finish line was at Nagnang's South gate.
The teams were organized with the following organization:
Team Buya: ChangLautze -> Irulan -> Lilly -> Sayako -> Rylee

Team Koguryo: Hugo -> Maven -> AzNCloudboi -> Amatus -> SleepNTrap

Team Nagnang: Nocturne -> Aimy -> Sutsang -> Ferro -> Guotie

The winning team of the first Tri-Kingdom Relay Race was Team Koguryo, with Team Buya in second and team Nagnang at third.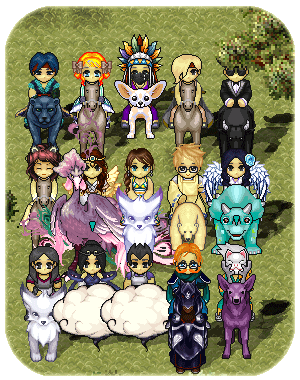 The prize? 5 million coins divided by the 5 members of winning team and 500,000 coins for each person to cross a checkpoint first, which in this case were all of Koguryo team. Therefore, each racer left the competition with 1.5 million more coins in their pockets.

Congratulations to the winners and all competitors!

~Vini Normad'or~
~Hyul 87, Moon 12~


---
Tri-Kingdom Relay Race

Posted by: Vini

--

1:52 AM EST

The Eternal Order of Nagnang has challenged the Ministries of Buya and Koguryo to a Relay Race accross the kingdoms. This mounted competition will happen today, Saturday May 13th Starting 6pm EST starting at North Gate Buya. There will be a prize for the winners of each leg of the race with a grand prize for the winning team.


Start: Buya North Gate

Checkpoint 1: Wilderness North Entrance

Checkpoint 2: Kugnae North Gate

Checkpoint 3: Southern Koguryo

Checkpoint 4: Nagnang North West Entrance

Finish line: Nagnang South Gate

This seems to be the first event of the kind which takes advantage of the kingdoms being merged into a single server.

~Vini Normad'or~
~Hyul 87, Moon 12~
Powered by Coranto
All portions of this website is copyright ŠNexus Atlas 2002-2016. Nexus Atlas, Nexus Network original content, layouts and logo are copyright Ben Moody 2002-2010. The current website layout was programmed by Nagnag. A large majority of this website's information is copyright Kru Inc. (www.kru.com) and ŠNexon Inc. (www.nexon.net). | The news presented on this main page not only contains factual information on the game Nexus: The Kingdom of the Winds by Kru Inc., but also the opinions of the person who is writing the news. Information from this website should only be used as reference and should not be the final word on any matter. Information on this website should not be used without the permission of Nexus Atlas administration.